Buddhist students seal Buddha-Bar
The Jakarta Post, March 6, 2009
Jakarta, Indonesia -- Dozens of Buddhist college students have on Thursday sealed an exclusive lounge and restaurant-type bar located on Jl Teuku Umar, Central Jakarta, after negotiating with the bar's management.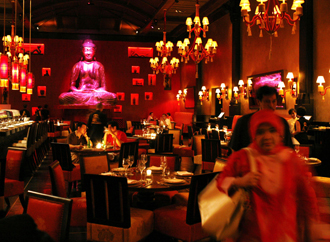 << The trendy bar opened its first Asian franchise here late last year, renovating a historic former immigration building in the plush Menteng part of town and decorating it with large Buddha statues and images. -- PHOTO: REUTERS
"We've sealed the Buddha-Bar and this will remain until the matter is settled. The management team has also agreed not to open the bar," Indonesian Buddhist Students Association (AMB) representative Widodo said, as quoted by kompas.com.
According to Widodo, the Jakarta administration has issued a letter to France regarding the widespread protest against the operation of Buddha-Bar, a famous hotel, restaurant and music chain run by the France-based George V Hotels and Resorts.
The bar's local management has also filed a request for a name change, he added.
"So as long as the issue still stands, the bar will remain sealed," the college student said.
AMB protested against the presence of the bar as they perceive the bar to be blasphemous to Buddhist teachings.
The name 'Buddha', Widodo argued, carries a sublime meaning that is not appropriate to be paired with words like 'bar' that is identic to venues where alcohol is served and people get drunk.
"The bar is also filled with Buddhist symbols and artifacts. Its presence is offensive to the Buddhist community in Indonesia," he said.
The Buddha-Bar Jakarta branch is the the chain's first restaurant opened in Asia following successes in London, New York, Dubai, Sao Paulo, Kiev, Cairo and also Beirut.