Buddha Bar asked to close down
4Hoteliers & Sources, March 27, 2009
Jakarta, Indonesia -- The Buddha-Bar management is asked to close down its Jakarta branch following protests from local Buddhists over the bar's name and use of Buddhist icons.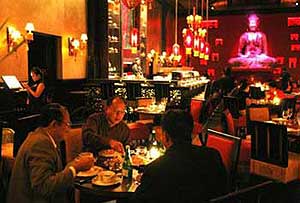 The Jakarta Post reported: "If they don't close this place down, I am afraid we could see other bars emerge like a 'Christian Bar' or an 'Islam Bar,'" Maftuh told Antara state news agency after a meeting with religious leaders in Jambi.
Indonesian Matters reported: Some Buddhists are, eventually, up in arms over a Buddhist themed club in Jakarta, the Buddha Bar.
The Buddha Bar, a French franchise chain restaurant-lounge-pub, ('soft') opened in Jakarta late in 2008 at Jl. Teuku Umar, Menteng, and received some amount of attention, with one international review enthusing that Jakarta had now joined the likes of London, New York and Dubai in hosting a Buddha Bar.
Jakarta in the last decade had become more cosmopolitan, the warm fuzzy glow of democracy shone, things dug out of the ground in the country had been fetching top dollar, and now with places like the Buddha Bar being opened the burgeoning class of stylish, wealthy, wine class attending people that these good times had produced had another place to parade at.
The review ended on a warning note, saying that in recent times Jakarta had been bombed by terrorists, Muslim militants sometimes smashed up bars that opened during Ramadan, and there had been shortages of wine.
None of these catastrophes has befallen the Buddha Bar in its short existence, but it is beset by another problem - Buddhists.
Several times in the last few days Buddhist student groups have protested outside the premises, demanding that it be closed down, or that it change its name to something less offensive. On 5th March 100 members of the Aliansi Mahasiswa Buddhis "sealed" the entrance to the Bar with police crime scene tape, and carried banners.
According to Antara News, the owner of the bar has been willing to look after the process of asking for the name change with the franchiser.
Jakarta's vice governor Prijanto said however the city administration would not close the bar because it did not violate the law. He said that the bar from France even actually could not be demanded to change the trade mark because it was already registered with the directorate general of intellectual property rights of the ministry of law and human rights.
"We cannot do it because they have a patent right," Projanto said.