Foreign Buddhist monks pray for Indonesia at Borobudur
Antara News, July 24, 2009
Borobudur, Indonesia -- Tens of Buddhist monks from different countries gathered at the ancient Borobudur temple here Thursday and prayed for peace and a conducive situation in Indonesia.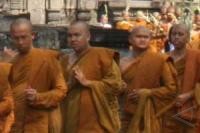 << Buddhist monks. (ANTARA/Regina Safri/*)
"We came here to pray for peace and welfare, and the speedy restoration of conducive conditions in Indonesia after the trauma of the recent terror bombings," the monks` spokesman, Prajnavira Mahastavira, said after they had done certain rites, including walking barefoot around the temple three times.
The monks had also come to Borobudur to demonstrate to the international community that despite the bombings, the situation in Indonesia as a whole had remained relatively secure, Mahastavira said.
"We are not afraid to gather here and this should show that Indonesia is still safe to visit. Our group includes colleagues who are 80 and even 90 years old," he said.
The monks from 24 countries, clad in their typical yellow robes, would later travel to Surabaya, East Java, to attend the dedication of the Mahavira Graha Temple on July 25-26.
The monks` presence and rituals at the Borobudur Temple were an additional attraction for the domestic and foreign tourists who happened to be visiting the largest Buddhist shrine in the world built in the eighth century.
An Indonesian guide accompanying the group, Erika Santoso, said the countries where the monks had come from included Korea, China, Malaysia, Singapore, the United States, and Taiwan.
Apart from the Borobudur, they would also visit the ancient Mendut and Sewu temples.