Court orders closure of Buddha Bar in Indonesia
AFP, Sept 1, 2010
JAKARTA, Indonesia -- An Indonesian court Wednesday ordered the local branch of Paris-based Buddha Bar to close after convicting the licence holder of blasphemy, a lawyer said.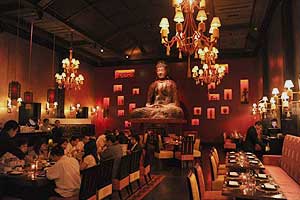 << Customers eat at Buddha Bar located in Jakarta's upmarket district
It also ordered licensee PT Nireta Vista Creative, the official Jakarta tourism agency and Jakarta Governor Fauzi Bowo to pay damages of one billion rupiah (110,000 dollars) to the plaintiffs for distress.
The city authorities had failed to consider the religious sensitivities when they approved the licence, the judges said.
"The judges passed a verdict today upholding the case we filed in May calling for the bar to be shut down," said Sunardjo Sumargono, a lawyer for the Anti-Buddha Bar Forum which filed the complaint on behalf of local Buddhists.
"The licence holder was found guilty of blasphemy and of using Buddhist symbols and ornaments at an inappropriate place."
Central Jakarta district court spokesman Sugeng Riyono confirmed that judges ordered the bar to close "as an unlawful act had been committed".
The plush lounge bar and restaurant is the France-based chain's first franchise in Asia, but it sparked protests almost from the moment it opened in late 2008 in an upmarket area of central Jakarta.
Its trademark Oriental styling -- including a large sitting Buddha figure which dominates the bar area -- infuriated mainly Muslim Indonesia's Buddhist minority, who organised protests and a legal challenge.
The owners changed the name to "Buddhabar" but that failed to satisfy the Buddhists.
"We're very pleased with the court's decision. It's a blessing for Buddhists. Justice has been served," Sumargono said.
Muslims make up roughly 90 percent of Indonesia's 240 million people, but the constitution also recognises the country's Christian, Hindu, Buddhist and Confucian minorities.
The owners of the bar reportedly vowed to appeal the court's decision, which could have implications for other hotels, bars and restaurants that feature decorative statues of Buddha.