Burning with desire to learn
by Pankaj Butalia, The Buddhist Channel, Nov 20, 2011
A Buddhist Channel's Special on selected projects showcased at INEB 2011
One small school changes life of Chakma refugees in Arunachal Pradesh
Arunachal Pradesh, India -- Sometimes, a small step can have the impact of a giant leap. A school set up by a refugee community in the North-East is one such step. Like many other tribal groups in the area, the Chakmas didn't really have much say in their destiny post (India-Pakistan) partition.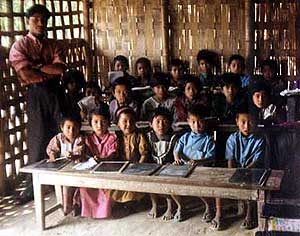 << DISTANCE LEARNING: Huts have been turned into makeshift hostels for students who come from distant areas
They would have been content to be left alone, but when the line was finally drawn in 1947, the Chittagong Hill Tracts, where the Chakmas and the Hajongs lived, went to East Pakistan. As if this were not enough, the Pakistan government decided to build the Kaptai dam on the river Karnaphuli soon after.
Over the next decade or so, between 75, 000 and 100, 000 tribals from both groups were displaced from their land and, as was the norm those days, without any compensation. Wilfuly uprooting the rural poor has been a routine pastime if not sport for South Asia's policy planners.
Large numbers of the evacuees set off for India in 1964 because of Nehru's decision to offer them shelter. About half of them settled in Mizoram and the rest were shunted around till they finally nestled in a small corner of Arunachal Pradesh. There they lived, stateless, but that at least ensured survival even though the locals wanted them out. But it's not easy to throw out 40,000 people and so they stayed, in the face of local hostility, without roads or electricity for a good forty years.
The nineties saw anti-Chakma riots in Arunachal. One consequence of this was the closing down of educational avenues for the refugees. Ironically this spurred many of them to seek education in other parts of India. So young Chakma men went to Mumbai, Guwahati, Kolkata and Delhi. It was this exposure to the outside world which led to a desire to provide education to their own children back in Changlang district in Arunachal.
In a few thatched cottages, on land loaned by a local landowner, this group of young men set up a school in 2003 with some financial assistance from the National Foundation of India, a Delhi NGO. No roads led to the school, nor did it have electricity. The initial ambition was limited - to provide basic literacy to sons and daughters of peasants who could not even imagine that education was supposed to be on their horizon.
But the founders of Sneha School, as it was called, had miscalculated badly. They had no idea of the latent desire amongst the poorest of the poor for education. Within a few days, word spread and peasants trooped in from distant villages carrying children on shoulders or on dilapidated bicycles and, lo and behold, the school took off with more than 150 students on its rolls.
The energy this generated revolutionised the area. Within two years, the number of students had jumped to over 300. The few educated Chakmas in the area all moved into teaching at the school. Their motivation level was high. They had not imagined their deprived community would have such a strong desire to pull itself out from the depths of misery. The school decided to send some teachers for training to Kolkata.
The level of teaching jumped. The landowner gave the school more land. More thatched rooms were constructed. Judo training started at the school. The number of students jumped to over 500. Today the school extends to class X, something that just could not have been imagined five years ago.
Most students are first-generation learners and belong to peasant families which still find it difficult to make two ends meet. Yet the level of motivation is so high that rarely does a child miss a class. At least half the children in the school come from villages at least 8 to 10 kilometres away. It is therefore not an unusual sight to see children setting out for school afoot or on cycles about two hours before school starts.
One of the most interesting innovations that families have made is the setting up of small independent hostels in which three or four children from a village stay over the week. Children from distant areas sometimes find it convenient to build a hut in a compound, or rent a hut, and stay in it.
There are at least 15 such establishments in Diyun.
Most of them have between three and four children from six to fourteen. They cook their own food at night, go to school in the morning, come back and eat the food cooked overnight, study before the lights go out, and then get down to preparing for the next day. This requires a level of commitment unseen in urban areas. Underlying it is a firm conviction that education is the tide that will lift their boat.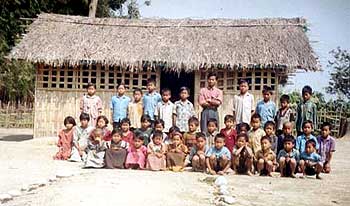 Children from the Sneha Schools now dream of a future that goes beyond the village. They dream of being air hostesses and computer engineers >>
And change is lighting up the horizon. The children now dream of a future that goes beyond the village. The older girls are determined to leave the village. They recognise that the small village without roads or electricity cannot contain their ambition and desires any longer. They dream of being air hostesses and computer engineers. The boys dream of becoming doctors and staying on in the village and serving their families, their people.
A community which saw no future for itself has become a self-confident, outgoing community and has changed the environment it lives in. The local tribes, the Singphos, the Kamtis, Tangsas, the Tutsas, seeing the difference the school has made to the lives of the refugees, have started withdrawing their own children from other schools and shifting them to Sneha School.
Consequently the lives of the Chakmas have got intertwined with those of the local communities, thus paving the way for their integration into the area in an organic manner. In an area fractured by parochialism, insularity and suspicion, this modest school has become a beacon of hope, and survival.

About The Chakmas
The Chakmas are a simple, innocent, peace-loving community and Buddhists by faith. They possess their own language, values and culture. In pre-independent India they inhabited mainly in two locations; one, the Chittagong Hills Tracts (CHT) of erstwhile Bengal (now Bangladesh) and the other Tripura and Mizoram which were then in Assam of India. Out of which CHT comprised the majority of the Chakmas.
During the partition of India in 1947, CHT fell into East Pakistan (now Bangladesh) whereas Tripura and Mizoram remained with India. As a result, only a minority of Chakmas settled in India. As CHT comprised of 98% Buddhists, the Chakmas wanted to merge with India as they should be because India was divided on religious basis. They even hoisted Indian National Flag, gave delegation to Delhi. However CHT was given to Pakistan against their will. To add to the injustice, they were not given an opportunity for referendum to choose the country of their choice. Hence, the Chakmas became unfortunate victims of the partition of India in 1947 and became the refugees in their own land.
For more information, visit: http://en.wikipedia.org/wiki/Chakma_people

About SNEHA
Sneha is a Public Charitable Trust, a non-political, non-profit making registered voluntary non-governmental organization. The Mission of Sneha is to empower and build the capacity and confidence of the most disadvantaged and vulnerable people through education, and encourage voluntarism, and infuse nationalism.
SNEHA enables children of one of the most politically and socially deprived communities in Arunachal Pradesh, the Chakmas, to access good education. By running a good school in a remote village in Arunachal, SNEHA serves 363 children studying in various grades, from kindergarten to Grade VII.
After facing immense hardships and challenges, SNEHA is now receiving slow recognition of its good quality schooling and state officials are visiting SNEHA school. Taking note of the good quality of education, parents from non-Chakma backgrounds too have started sending their children to SNEHA's school. Villagers have a great sense of ownership for the school. They have contributed by way of donating land, labour and local building materials. There are also cases of students from faraway villages staying at homes of teachers in the absence of any boarding facilities in SNEHA.
For more information, visit: http://www.sneha.org.in/