Buddha relevant in modern world: Dalai Lama
IBN, Nov 28, 2011
Dalai Lama says the synthesis of Buddhism and science has potential to lead to discoveries that will enrich our physical, emotional and social well-being
New Delhi, India -- Buddhism has a special role to play in the modern world because unlike many other religious traditions, Buddhism uniquely propounds the concept of independence which accords closely with the fundamental notions of modern science, Tibetan spiritual leader the Dalai Lama said on Sunday.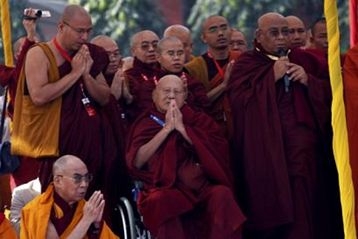 << The Dalai Lama prays with other Buddhist leaders and scholars during an all faith prayer meet as part of the Global Buddhist Congregation 2011 in New Delhi November 30, 2011. — Reuters pic
Elaborating on the importance of Buddhism as tool for promoting peace, he said, "The 20th century was a century of war and violence, now we all need to work to see that the 21st century is of peace and dialogue."
The Tibetan spiritual leader, who along with many of his supporters fled Tibet and took refuge in India when Chinese troops moved in and took control of Lhasa in 1959, addressed a gathering of nearly 900 Buddhist monks and scholars at a four-day Global Buddhist Congregation 2011, which began in the capital Sunday, in a televised message.
"We can think of Buddhism in terms of three main categories - philosophy, science and religion. The religious part involves principles and practices that are of concern to Buddhism alone, but the Buddhist philosophy of interdependence as well as the Buddha science of mind and human emotions are of great benefit to everyone," said the Dalai Lama, who after coming to India headed a Tibetan government-in-exile in Dharamsala in Himachal Pradesh which never won recognition from any country.
The spiritual leader said while "modern science has developed a highly sophisticated understanding of the physical world, including the subtle workings of the body and the brain, Buddhist science on the other hand has devoted itself to first-person understanding of many aspects of emotions - areas that are still new to modern science".
"I believe that a synthesis of these two approaches has great potential to lead to discoveries that will enrich our physical, emotional and social well-being," the Dalai Lama said.
The spiritual leader said "he was convinced that the most significant obstacle to religious harmony is the lack of contact between different faiths and communities and, consequently, the lack of appreciation of their mutual value".
"However, in today's increasingly complex and interdependent world, we have to acknowledge the existence of other cultures, different ethnic groups and of course other religious faiths. Whether we know it or not - most of us experience this diversity on a daily basis," he said.
"I think the time has now come to communicate freely with one another - those in the Pali tradition engaging in dialogue with those in the Sanskrit tradition," he said.