I Go to School With Buddhist Monks
By Barbara Chai, Wall Street Journal, March 16, 2012
Dhramsala, India -- The past 48 hours have been non-stop. I have been observing Tibetan Buddhist monks and also, in preparation for my private audience, meeting with some members close to His Holiness the Dalai Lama to discuss protocol and Tibetan Buddhism.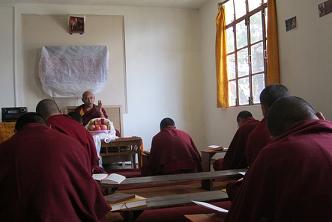 << Barbara Chai
A monks' class at the Institute of Buddhist Dialectics.
Each conversation was a small universe of information, and I am trying to absorb everything quickly and deeply. The discussions were rich and nuanced. We were invited to the home of Tenzin Geyshe Tethong, the former minister of education and private secretary for the Dalai Lama, who also comes from a Tibetan aristocratic background.
He gave us a generous hour despite having to leave for Delhi later in the evening, and served us tea in his wood-paneled reception room overlooking the mountains. As he sat and spoke, an image of His Holiness the Dalai Lama hovered above his head, as if he were present as Tenzin Geyshe Tethong told us stories of his many decades serving as his secretary.
I also met separately with Tenzin Taklha, current joint secretary at the Dalai Lama's private office, who offered suggestions for my private audience (keep the questions brief and clear) and explained the protocol: fill out these forms, show up one hour ahead of time with passport. He also helped explain His Holiness's adherence to analytical meditation and appreciation of science, following in the Nalanda tradition.
Tenzin Taklha then referred me to Lhakdor-La, a distinguished scholar and monk who directs the Library of Tibetan Works and Archives. Lhakdor-La explained very precisely the nature of Tibetan nuns and the current discussion over whether the nuns can achieve the same full ordination of Gelong as Tibetan monks (as of now, they cannot, as decreed 2500 years ago). He also discussed the importance of cultivating inner strength for any Buddhist and — as a monk familiar with the West and its culture, he emphasized the importance of empowering oneself through meditation and responsibility. "Everything you need is within you," he said, and he looked at me as if he knew me already.
"Because you are Buddhist, it is much easier for me to discuss this with you," he said, although he emphasized that all humans, Buddhists or not, could benefit from meditation and this mental calmness.
After the meeting, I bought audio CDs of teachings by Lhakdor-La and His Holiness the Dalai Lama, which were on sale in the Library for the absurdly low price of 50 rupees per CD (that's about $1 each). A copy of the Dalai Lama's new book, "Beyond Religion," which will be the subject of my private audience, was also on the shelf, with a different cover photo and typeface from the U.S. version. So I bought that too.
Finally, by chance, we were allowed to sit in on a monks' class at the Institute of Buddhist Dialectics. This isn't normally done, but I inquired at the main office if there would be a debate, and the official said the monks were in class. When I asked to observe, he looked at his watch and said, "Only 20 minutes left," but nodded in agreement and led us upstairs to a modest, wood-floored room with 10 monks seated on cushions. They were hunched over small wooden tables covered in new, hardcover books.
The lesson was in Tibetan, but I spoke with one of the monks, named Karma, about what they learned: the first lessons of Vinaya, or verses of the Gelong (fully ordained monks) vows. It was quite unlike most classes I've seen in that only the teacher spoke, and the monks were silent, only rocking back and forth lightly on their cushions or turning the pages of the book. The view on the other side of the large window was the snowcapped Himalayas.
We also happened upon the monks' debate later, by the Library of Tibetan Works and Archives. It's a fascinating exercise to watch, as the monks clap and debate with flourish and a bit of pomp. More on that soon! For now, I have to continue preparing for my private audience with the Dalai Lama. It comes in just a few hours.
------
Speakeasy reporter Barbara Chai is traveling to Dharamsala, India, this week for a private audience with His Holiness the Dalai Lama. http://blogs.wsj.com/speakeasy/2012/03/16/tag/blogging-to-nirvana/