Three jewels of Buddhism
By Poonam Srivastava, Deccan Chronicle, May 4, 2012
New Delhi, India -- On this Buddha Purnima, which falls on May 6, I would like to recommend that we revisit the three jewels of Buddhism to mark the event. Also known as the "three refuges", they are often chanted at Buddhist festivals. They are known as tri-ratna in Sanskrit and ratana-traya in Pali translations. It says:
Buddham sharanam gacchami
Dharmam sharanam gacchami.
Sangham sharanam gacchami.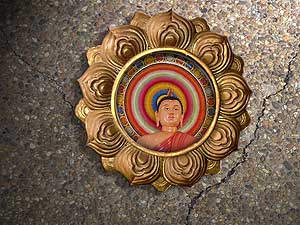 The chants are known as the refuges as all three lines exhort the seeker to take sharan (refuge or protection). Sharan is a key word in spirituality, which is suggestive of faith and surrender. It promises seekers that when we offer ourselves as students on the path of learning we are protected and guidance follows, which helps in our evolution. It is also a non-ego state of our humble life.
The first jewel talks of taking refuge or protection in the Buddha. Here the Buddha is not only representative of the historical figure of the holy Buddha who was born and attained nirvana on Buddha Purnima. But Buddha here also refers to a person who has become spiritually awakened, like Buddha or other monks who attained inner awakening about the supreme knowledge that helped them transcend worldly sorrows to live an enlightened life. We are encouraged to follow these role models, draw lessons from their stories and try to live by their examples by lighting our inner awareness.
The second jewel is about taking refuge or protection of the dhamma, where it offers the means to an end. Dhamma represents the combined teachings and doctrines of all the teachers. Here again the focus should not only be on rote learning but on experience-based practiced teachings. A lot of Buddhist teachings encourage learning through engagement with practices of awareness, meditation and mindfulness, which enhance awareness and concentration. Dhamma also helps us to develop discernment about the true nature of reality and being, removing our delusions and ignorance.
The third jewel is about taking refuge in the sangha or the company of fellow seekers as well as teachers, monks and nuns. This is extremely empowering as anyone who has been the part of a group would vouch for the infectious effect of strong group energy. When you are feeling low, it is a great antidote to join a group of practitioners in exercises like meditation or chanting as this helps in building up our inner strength. Sangha also offers great bonding opportunities where you learn of inspiring experiences from other members, which motivate us to carry on with our journey of learning. It also makes one feel secure and provides a comfort zone amid challenging worldly insecurities of daily strife.
(Buddha Purnima "Evening of Mindfulness" will be held on May 6, 2012 from 5.45 pm to 10 pm at Sanskriti Kendra, Anandgram, Aya Nagar, New Delhi.)
Poonam Srivastava's book, T-Junction Crossing Over for Change, has been published recently. She can be contacted at m4moment@gmail.com