We need to be 21st century Buddhists: Dalai Lama
by S Gopal Puri, TNN, Sep 28, 2012
DHARAMSHALA, India -- The 77-year-old Tibetan spiritual leader, the Dalai Lama, has exhorted his followers to be a Buddhist of the 21st century and said that he would prefer building learning centres than monasteries or temples.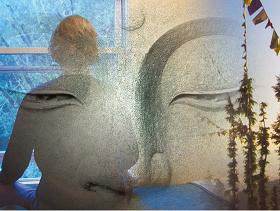 The noble peace laureate pointed out that Buddhist practice is to use our intelligence to the maximum and transform our emotions. Buddhism is growing as more and more scientists are focusing on the mind in tackling emotions, he said.
"The Tibetan spirit comes from Buddhism which is more than 2500-year-old tradition in which interest is growing. Chinese communism is based on ideas that are barely 200-year-old and whose influence is declining," said the Dalai Lama, while interacting with a group of about 102 Vietnamese at his exile seat in McLeodganj on Wednesday.
The Dalai Lama said that Buddhism does not talk about a soul, but acknowledges the existence of a self that is designated on the continuity of the mind.
"More and more scientists are showing interest in the mind, in tackling the emotions. In this connection, their interest in what Buddhism has to say is growing. Buddhism describes different levels of mind, the sensory consciousness which depends on the brain, but also a more subtle level of mental consciousness," he explained.
The spiritual leader added that scientific investigation of this phenomenon has begun.
"We need to be 21st century Buddhists. Buddhist practice is to use our intelligence to the maximum to transform our emotions. For this, knowledge is very important. Western scholars often suggest that Buddhism is not so much a religion, but more a science of the mind. The concept of emptiness of intrinsic existence is also important. When we investigate reality, we cannot find something independently, intrinsically existent. Ignorance, our misconception about reality, is the basis of our destructive emotions. The counter force is reason, taking a scientific approach to correcting our view," said Dalai Lama.
When asked about current tensions between Vietnam and China over the Paracel and Spratly Islands off both their coasts, the Dalai replied that anger would not help, anger would not affect the Chinese mind. It would be far better to try to influence them by friendly means, "which is not to say that this can't be done from a position of toughness". He acknowledged that in 1979 when China sought to teach Vietnam a lesson, they were faced by a tough, battle-hardened Vietnamese army.
"I don't especially favour constructing a monastery or temple, I'd prefer to see an academic centre of learning instead, and somewhere that could be a focus for the study of Buddhist philosophy, Daoism and secular ethics. I recently told people in Ladakh that they should aim to make their monasteries centres of learning," he said.