Buddhist online giants join forces to reach out to Gen-Y
The Buddhist Channel, March 6, 2014
Appbook titled "Settling Back in The Moment" is expected to reach out to 100,000 people in its initial run.
Kuala Lumpur, Malaysia -- BuddhaNet, Buddhist Television Network of Korea (BTN) and The Buddhist Channel have come together to co-produce and promote a brand new AppBook called "Settling Back in the Moment". Based on an out-of-print title of the same name, the AppBook version gives the book a modern take with up to date animation and graphic designs.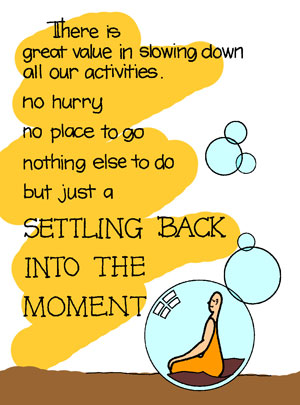 << "Settling Back in the Moment" contains short and concise quotations on living mindfully, but uses language that is suited for GenYs.
The AppBook, to be published initially in English and Korean, will be promoted via the respective websites of these three organizations. Android and Apple IOS users (smartphones and tablets) will be able to download it free of charge.
Lim Kooi Fong, founder of The Buddhist Channel said that discussion to revive "Settling Back in the Moment" in a new form was taken sometime late last year. "I have spoken to both Ven. Pannyvaro (founder of BuddhaNet) and Ms Emi Hayakawa (Chief of Overseas Operations, Buddhist Television Network) about cooperating on a project to reach out to the so called "Gen-Y Buddhists". Both were very supportive of the idea," said Bro lim.
"We all felt that developing a good AppBook was one approach", he added. He further emphasized that "... the content needs to match the socio-psycho make-up of this generation. Otherwise it will be a futile exercise."
Understanding the socio-psychology environment of this "Gen Y Buddhists" required some research. Basically the task was to face up to this challenge: "How do you encourage one to develop mindful habits in a fast paced, secular and materialistic situation?"
Gen Y's are typically tech driven. Many carry smartphones and accessing the internet, using social media and downloading apps are second nature to them. There is a tendency towards a "me first" and a "me too" attitude.
More importantly, because of the nature and manner of content being consumed in a social environment via mobile gadgets, their attention span tends to be shorter. eBooks with meandering content are less attractive than those which are short and precise.
Case study: South Korea
A typical case is South Korea, where its citizens are among the most internet-savvy in the world. In August 2013, Flurry Analytics measured 33,527,534 active smartphones and tablets in South Korea. Out of this number, 85% majority of the smartphones and tablets being used here are manufactured in South Korea. Which means the market is typically Android driven.
Out of the total population of 50,219,669 (estimated 2013 census), Buddhists only make up of 22.8% while a whopping 46.5% count themselves as "non-religious". The active population median, those age between 15–64 years, makes up about 72.9% (male 18,151,023/female 17,400,809) of the total population.
The AppBook under production takes into consideration the following two factors:
a) Accessibility of content to the targeted users via digital means, which means that content needs to be delivered in a format that is generally accepted. In Korea, this refers to the Android platform, and the layout and design needs to be framed according to smartphones and tablets.
b) While 22.8% consider themselves as Buddhists in Korea, the country is very much secular in nature. The larger section, the non-religious one which makes up of almost half the population, can also be considered as a potential market.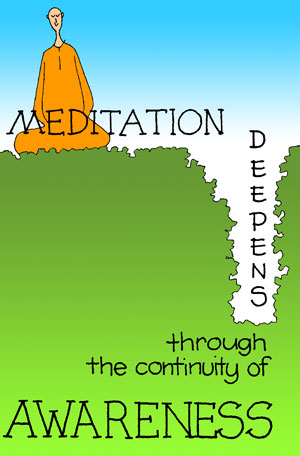 Use of eye catching graphics and animation enhances content appreciation >>
This brings us to the nature of the content which needs to be packaged and organized to fit the mindset and lifestyle of a typical Gen Y. Based on the survey, it was found that Gen Y'ers generally accesses their phones or tablets/phablets while waiting, i.e. travelling, commuting, waiting in line etc.
In these moments, they tend to consume content in chunks. The more complete and standalone these chunks are (in one read), the more time they will spend on it. They tend to browse through content, rather than read from beginning to end. Hence, if the information is packaged in a way that allows for the reader to jump from one point to another without losing coherence, such content are visited more frequently. In a society that is generally stressful in nature, content which is light hearted and uplifting is seen as "friendly" and "inviting".
Based on these observations and general survey, it was found that "Settling Back in the Moment" meets these requirements. "The language glides towards the caressing process of mindfulness," explains Bro Lim. "Along that gentle flight, readers are led to observe the appearance of words and sentences, and the blooming of meaning that carries with it."
"Reading itself becomes an experience of insight. 'Settling Back in the Moment' contains some of the best meditation one-liners ever published," enthused Bro. Lim.
Emphasis shall be on ease of flow from one idea to another, using every day keywords yet embedded with "deep dharma". Colorful graphics and animations are posited strategically to help enhance understanding and meaning.
---
HELP US PUT THIS APPBOOK INTO THE HANDS OF 100,000 GEN Y BUDDHISTS
Make a donation
---
Buddhist Channel shall be responsible for editorial and graphic development, while BTN has offered to help in the translation into Korean. Phase 2 of the AppBook, which involves translating the text into Chinese, Thai and Japanese, is expected to commence in July 2014.
Production of the AppBook (English and Korean version) begins in early March 2014. Total production is budgeted at US$ 8,500, of which US$ 2,000 is sponsored by Buddhist Channel.
The remainder of US$ 6,500 is opened for public donation. Much of the cost will go into translation, graphic design, coding and programming. Buddhist Channel has been entrusted to raise funds for the project, and donors name shall be credited in the book. The targeted download of this title is 100,000 units (both in English and Korean).
Before the AppBook is launched, a blessing ceremony will be held in Kuala Lumpur.
If you wish to contribute and support this project, please click here.