Bhutanese heads team to translate Tibetan Buddhist text
by Yip Yoke Teng, The Star, March 22, 2014
Kuala Lumpur, Malaysia -- BRINGING the true teachings of Buddha to the world by translating over 231,800 pages of text from Tibetan to English and other languages is a painstaking 100-year project.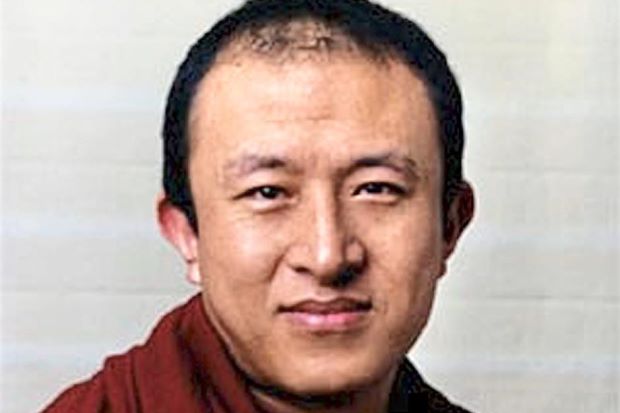 << "Visionary leader: Dzongsar Khyentse Rinpoche who leads the 84,000 translation project is in Malaysia this week to give public lectures
The project called 84,000: Translating the Words of the Buddha officially started in January 2010.
The person currently at the helm of the project involving 153 translators from 15 countries, is Dzongsar Khyentse Rinpoche who is in Malaysia this week to give public lectures.
Dzongsar is a Bhutanese Buddhist teacher, writer and filmmaker.
He actively imparts the teachings of Buddha around the world, including setting up dharma centres and lecturing at Oxford University and Beijing University among other renowned institutions.
He has made three award-winning films — The Cup (1999), Travellers and Magicians (2003) and Vara: A Blessing (2013).
He also authored What Makes You Not a Buddhist (Shambhala, 2007) and Not for Happiness: A Guide to the So-Called Preliminary Practices (Shambhala, 2012).
It is a global effort to translate the Kangyur and Tengyur.
Kangyur refers to the translated words of Buddha; the collection includes more than 500 sutra and 1,100 tantra.
The Tengyur contains more than 4,000 treatises and commentaries by Indian and Tibetan masters on philosophy, science and medicine among other topics.
"By translating and making available the Tibetan Buddhist text to the people of today, a vast swath of Buddhist civilisation and culture may be saved from annihilation," Dzongsar was quoted as saying.
His vision is to translate the Kangyur within 25 years and the Tengyur within 100 years.
"Historically, translation has played a crucial role in the survival and revival of Buddhism.
However, to-date, less than 5% of the classical Tibetan text and only 15% of the classical Chinese text have been translated into modern languages," said project executive director Huang Jing Rui.
The number of people who can read classical Tibetan is fast diminishing.
Huang said 84,000 engaged both translators and scholars, hence the team consisted of qualified Himalayan masters and translators who are native English speakers.
They must possess expertise in Classical Tibetan, Buddhist Sanskrit, English and Buddhist philosophy.
The editorial committee and board of reviewers comprise Indo-Himalayan scholars from all four schools of Tibetan Buddhism, as well as translators and academics from universities worldwide.
"The translation process is more complicated and time-consuming than it first appears, involving primary and secondary source material research, textual comparisons, research and consultation on tough subject matters and terminology and more," Huang said.
"The main challenge of the feat is the lack of qualified translators.
"The context of history, grammar and culture has to be taken into consideration while translating because the same expression may mean something else in a different language.
"That is why we need very well-trained masters and scholars to work together and approach the translation from many perspectives and directions.
"A well-translated piece will convey accuracy, readability and fidelity," she added.
The translated text is available for free online at http://84000.co/.
To-date, the reading room has garnered 2.2 million hits, with 46,800 visitors from 106 countries.
For details, call 012-221 1790 (Siew Chin), 012-218 4530 (Chui Jin), 012 -290 1368 (Gah Lin) or 04-641 4822 for details.