Rebuilding a battered Church
The Buddhist Channel, July 21, 2014
Tacloban, Philippines -- The Catholic Church in the Village of San Isidro in Tacloban, Philippines which had been battered by typhoon Haiyan recently has been fully restored.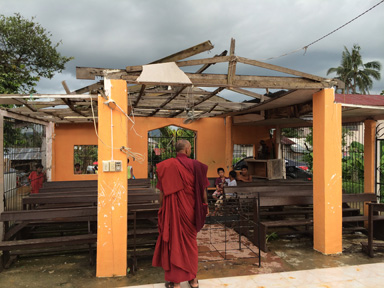 The reconstruction was made possible by the effort spearheded by Bhante Y. Wimala and through the kind sponsorship of Mr. Anura Perera. The Church was badly damaged by the typhoon and the congregation was not able to raise the money needed to rebuild it. At the request of the Village Chief Hon. Eutequio N. Balunan and the Village Councilors, reconstruction work started in May of 2014.

The official community hand-over ceremony will take place in July when Bhante Wimala returns to the Philippines to supervise on-going typhoon relief projects.
In April 2014 Bhante Wimala arrived in San Isidro, Barangay to distribute medical equipment to the health center on the aftremath of the deadly typhoon Haiyan. Hundreds of dead bodies were collected in Tacloban city and brought to San Isidro. They were buried in mass graves around the health center.


The Church of San Isidro was among the many buildings badly damaged. Women and children were found sitting inside the damaged church holding umbrellas. Mrs. Eden Chua, the President of the Village Chiefs Association in Tacloban was with them.
With her help Bhante Wimala spoke with the Chief of the Village and several Church attendants. They explained to Bhante Wimala that the people in this area were badly affected by the typhoon and hadn't been able to raise the money needed to restore the Church. No one had offered any assistance and they asked if Bhante would help.
Bhante Wimala accepted their request and began the work of assessing the needs and securing the funding for the project. Bhante then contacted Mr. Perera, explained the situation and the reasons for choosing to rebuild the Church. Without hesitation, Mr. Perera agreed to sponsor the project.
The reconstruction was managed by Jenny Ruth in Tacloban and she worked hard communicating with Bhante Wimala daily until the project was completed. On July 2014, the work was finally completed and a simple handover ceremony will be presided by Bhante Wimala together with the Church committee.