Why a Buddhist Monk Doesn't Need an App to Meditate and Why You Do
by Dragos Bratasanu, The Huffington Post, July 17, 2015
A few years ago I traveled to Nepal to hike in the Himalayas, learn a bit more about myself and about the world from the Buddhist spiritual teachers.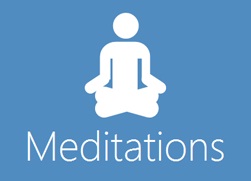 For over seven years I have went back and forth across the bridge between science and spirituality. I have studied both, trying to understand why we try to separate them, why we need to follow one path or the other. I never could quite understand why a scientist cannot spend time in meditation or pray and why a person on the spiritual path can't actually think?
"Why a scientist cannot spend time in meditation
and why a spiritual person can't think." -- Dr Dragos
As the night embraced the highest peaks in the world, I walked through the gates of a beautiful Buddhist monastery. Pale yellow lights shimmered from the classrooms where students were still learning their most sacred ancient texts. Only the crackled sound of me turning the prayer wheels a couple of times, my footsteps in the garden and the bark of a stray dog in the distance created rhythm through the stillness of the night. Suddenly I felt somebody pulling my jacket and as I turned around, a small Buddhist kid with a big smile and sparkling happy eyes asked me laughing: "Do you have candy?"
Four words you need to make your dreams come true:
"Do you have candy?"
As it brings me great joy to share what I have, I gave him all my chocolate bars that I bought to help me resist the long hikes in the mountains. He ate all the chocolates really fast and I soon realized that "do you have candy" were the only English words he knew. He took my hand and walked me to the abbey of the monastery without saying another word.
The abbey was a wonderful man in his fifties now, with a most obvious trait: he was always laughing and smiling. When he was just 5 years old he ran away from Tibet to escape the Chinese oppression. Leaving his family behind, he fled across the mountains and took refuge in a Buddhist monastery in Nepal. He became a monk. In spite of all his hardships, he was now intensely happy.
How do you do it? I asked him. How do you stay so happy?
He begun his answer with a delicious laughter: "You know, in the western world you have everything you need to have a happy life. You have access to an abundance of information online, you have freedom, you have bookstores to learn anything you want, you can afford to buy anything you need. You even have apps for meditations!
I don't know what those are because I just sit down and meditate."
"What in the world is an app for meditation? I just sit down and do it." -- Buddhist monk
"You know what the problem really is? You fill your head with so much information but you never put it into practice. You never take action. You never do it. You study meditation, you learn techniques, you take courses, you read books, you go to classes but you never do it on the long run. And it's driving you crazy. It's that simple."
"Stop thinking and start doing!" -- Dr. Robert Richards, Co-Founder Singularity University
It's never the extraordinary people who do the extraordinary. It's the ordinary people like you and me who decide to stand up and take the journey. Because they complete the journey, ordinary people become extraordinary. What do you need to do today that you know you have to do and don't do it? Is it to go to the gym and exercise? It is to eat healthy? Is it to find the courage to tell your manager that he's wrong? Is it to take bold leadership of your life and stand up for who you really are?