What Buddhism says about money and meaning
by CHRIS TAYLOR, Reuters, Aug. 27, 2015
NEW YORK, USA -- Buddhism, which holds that wealth is temporary and no path to happiness, might not sound like the best source for money wisdom.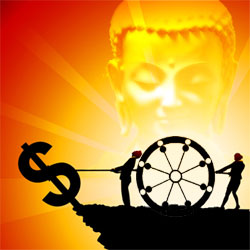 Not so, says Ethan Nichtern, the prominent Buddhist teacher, who has written a new book, The Road Home, on self-awareness and spiritual seeking.
Money is unavoidable and it is people's attitude to it that causes worry and stress, Mr. Nichtern says, who discusses here how money fits into a spiritual approach to the world.
Can we escape our connection to money – or should we?
We need to have some kind of system for measuring how we consume, produce and share. So there will always be money in any complex society. And any human who wants to pay the rent has to learn the rules of budgeting.
But it's not just a necessary evil. Money can also be spiritual or divine, by powering whatever positive activity you want to engage in.
You were raised in money-centric New York City. Did that shape your views?
Growing up on the Upper West Side and in the East Village, I certainly realized how important money was. It determines so much of the structure of our world, and it also brings so much stress along with it. Especially in New York, people feel burdened by the need for the security and status that money brings. That's why we all need to open up and have this conversation. I've never had the [billionaire] Koch Brothers in my class, though – that could be awkward.
Why is money seen as the solution to all our problems?
In life, we are all wandering around in circles, thinking that our next stop will be exactly what we have always been looking for. But we never arrive – it's an illusion of an oasis. It is the same thing with materialism: The idea that 'If I get the right stuff, I will finally feel at home.' But we can never acquire enough stuff.
Why are we so dependent on something so abstract?
First money was gold coins, then it was paper, and at a certain point it just became computer files. Money has become more and more abstract, and we are basically just agreeing that this is the way things are. But that doesn't make it any less powerful. Even though it is abstract, we cling to it as part of our identity.
People's foremost money worry is retirement. How can we deal with that anxiety?
Buddhism teaches about cause and effect. So by all means, prepare for retirement. There is nothing wrong with that. But the other way to look at it is, if the mind is insecure, then no amount of money will ever make us feel safe. Even if you saved $50-million, you would just worry about something else, like getting cancer or having a car accident. Just try to remember that everyone else on Earth has a similar anxiety. Then you won't feel so alone. So plan well, and then let go.
How can people use money as a positive tool?
We are taught to use money in ways that isolate us. But money is an exchange. If there was only one person in the world, you could be a trillionaire, but it wouldn't even matter because all that money would be worthless.
Think about how money connects you to other people. From a Buddhist standpoint, you should think about how to use that money to empower others.
Any final messages about the possibilities of money?
You can be an awakened human being, and also make a living at the same time. When people say money is dirty, then they are just leaving it all to people who don't have any spiritual practices or values. That is an abdication of our responsibilities. Those of us with compassion actually need to go deeper into these arenas. With money, we can empower some very meaningful things in the world.