Kate Middleton and Prince William meet with Buddhist nun from Kent in Bhutan
by James Rose, Kentonline.com, April 20, 2016
Timphu, Bhutan -- A Whitstable woman has returned home overwhelmed after receiving the royal backing of the Duke and Duchess of Cambridge during their visit to Bhutan.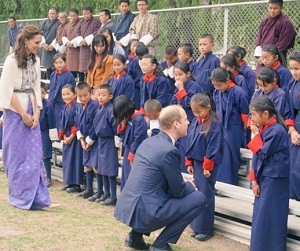 << Prince William and Kate meet children from the Drak-Tsho charity in Bhutan. Picture: Kensington Palace
Buddhist nun Emma Slade, 49, of Clare Road, runs a project with mums Sue Hills and Adrienne Shaw to improve living conditions at villages and help disabled children.
She spoke to Prince William and Kate at length about the Opening Your Heart to Bhutan campaign during a reception at the Taj Tashi Hotel in Thimphu on Friday.
Emma said: "It was an amazing once-in-a-lifetime experience, the visit was arranged by the British Honorary Consul to Bhutan Michael Rutland who invited me as one of a few invited guests to the reception where they met with the King and Queen of Bhutan.
"I was lucky enough to get the opportunity to speak to them separately and for a good amount of time.
"I only got the invitation at short notice and had to borrow money from my mum to go back to Bhutan but I was chuffed to bits to be there."
Emma explained that Kate was very inquisitive about the charity.
She said: "I was a little bit nervous about meeting them.
"Kate was stunning, far more beautiful than I ever imagined and just her presence was amazing.
"But she put me at ease very early, seemed natural and is generally a very kind person.
"We talked about the charity and she wanted to know what it was like to be a nun in Bhutan and wanted to know about the spiritual side of the country."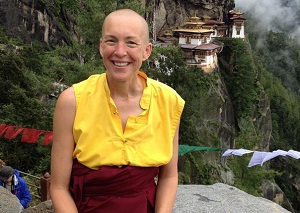 Ani Pema Deki aka Emma Slade, founder of Drak-tsho, a charity which provides education and vocational training for children and young adults with special needs in Bhutan >>
Prince William also showed his support to the campaign.
Emma said: "He wasn't just being polite, he seemed very interested and engaged in what we are doing and said that both him and Kate are spiritual people.
"They are hoping to bring both of their children back at some stage."
She aims to keep the royals updated with her project.
She said: "I asked permission to send him a copy of my book The Bee Flew Out of the Jar and he was very supportive and agreed.
"The book is about my journey of becoming a monk and working in Bhutan.
"I've worked with Summersdale Publishers and it is due to come out in April next year with all proceeds going towards the charity."
Both William and Kate met with children from the Drak-Tsho charity which is working with the Opening Your Heart to Bhutan campaign.
Emma said: "The fact that they went out of their way to meet disabled children we saw as a huge show of support and confidence in our work.
"We are hoping we can keep the Royal Highnesses up to speed with our work in Bhutan as we actively continue fundraising and improve educational and medical access.
"The royals saw for themselves how incredible Bhutan is and it is still a developing country with significant areas needing help.
"This should build a great link between the United Kingdom and Bhutan."
Emma launched the campaign in February last year and has raised money to build a children's playground in a rural village in south west Bhutan, two toilets, one shower, one septic tank and provide endless supplies of clothes and basic things for children.
Funding also paid for physiotherapy for a 19-year-old woman called Nakum which led to her walking for the first time.
She is the only western woman ever to have been ordained in the country.
The charity will now focus on working with disabled children for the rest of this year.
She said: "We are the first registered charity dedicated to Bhutan and our next project is to build accommodation for a disabled girls school in east Bhutan."
Visit openingyourhearttobhutan.com to support the project and find out more or email beingkindinbhutan@gmail.com.