'Seeing' Vesak
By ASHANI ERANDIKA JAYASUNDARA, The Nation, May 21, 2016
Colombo, Sri Lanka -- Like any other festivals, Vesak Poya has also become a festival of merry-making. Make-shift stalls come out of the woodworks in the city, dangling ready-made lanterns of a multitude of colours. People scurry in and out of stalls buying Vesak cards, lanterns, buckets, masks, Buddhist flags, and lights bulbs is a common scene during the season.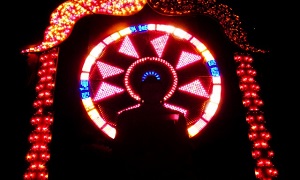 The design of Vesak lanterns has also been distorted as per the demand of customers.
The day, considered as a public holiday in honour of the Buddha, has become day for merry-making for many today.
Today, e-Vesak cards are used au lieu de Vesak cards that were presented by hand or sent by post. The simply-crafted Vesak lanterns made of bamboo sticks, which were used to decorate homes in the past, have been modified and replaced with iron and plastic frames. Today our busy schedules prevent us from doing many things we were used to in the past. As a solution to our packed schedules, we choose to buy these lanterns and buckets as making them would be time consuming.
Vesak lanterns, light buckets, lamps are meant as an offering of light to the Buddha, who lit up the path to Nibbana for all human beings. Making Vesak lanterns and other activities, during Vesak season, which involve team spirit and patience as well as co-operation are no more. Everything is subject to money. Celebration of Vesak is not anymore what it used to be. It has lost its spiritual core by now.
Large crowds throng the illuminated streets. They find it thrilling than going to the temple. During Vesak season, people stroll the streets transformed into a grand spectacle with massive pandals or Thoran, lanterns, lights, contests and other funfilled activities which are organized to impress the passerby.
Vesak decorations are on display day and night during Vesak season. Electrification of Vesak pandals embellished with paintings of the various stages of the Buddha's life and various Jataka stories. Today, the concept of Vesak has become a money spinner. The pandals and Vesak lanterns, which are constructed as a ritual of offering light during Vesak are used for commercial gains today.
People have also become competitive in their creations of lanterns and pandals, as competitions are organized by various institutions and encouraged through financial rewards. This begs the question whether financial gains are the ultimate motive of people during Vesak.
Although there are dansal, organized to feed pilgrims and the tired traveller, the street vendors gain enough commercial benefits. People gradually forget the real spirit of Vesak. Qualities like tolerance and cooperation have been shod gradually due to the influence of money and technology. People are too selfish and competitive even to celebrate this holy day.
In the good old days, all the people in the village gathered to light coconut oil lamps by the roadside, a rare sight today. It is pathetic that Vesak has been commercialized. Today, people have got more materialistic, with blatant disregard for moulding their spiritual well-being on this holy day.
The true meaning of performing rituals such as making lanterns has been forgotten. This has become a mere celebration of light and illumination than about focussing on the symbolism behind it. Vesak Poya is solely a religious festival and not a festive occasion. Vesak is an important event in the Buddhist calendar, celebrated by Buddhist devotees to mark the three significant events of the Buddha's life; His Birth, Enlightenment and Parinibbana.
It has been a ritual for Buddhists island-wide, to flock to the temples to observe Sil and to engage in various religious activities, such as listening to religious sermons and engaging in meditation. But today it is a different scenario. While some people involve in religious activities, for the rest leading hectic lives, it is a day to organize picnics and to get the full merriment afforded by the rare-long weekend.
People are too engrossed in their daily work that they have forgotten about spiritual balance vital for life. But on this blessed day, we should determine to develop self-discipline without losing our moral values. As taught by the Buddha, we should engage in only good deeds backed by humanity and kindness, while being mindful of our own demeanor. Let us wish that the spirit of Vesak enable us to choose the right path for a peaceful living.