Monk-run Tokyo bar proffers drinks even as it teaches Buddhism
by May Masangkay, The Japan Times, Apr 22, 2017
Tokyo, Japan -- Drinking at your neighborhood bar would appear to be inconsistent with a Buddhist's quest for clarity of mind and enlightenment.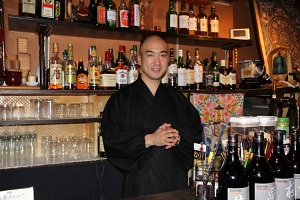 << What'll it be?: Yoshinobu Fujioka stands ready to serve at Vowz Bar

Intoxicants, after all, have the effect of clouding the senses, not to mention one's judgment. But for Buddhist monk Yoshinobu Fujioka, who operates a bar in central Tokyo with other clergy of his faith, nirvana — it appears — is just a sip away.
The Vowz Bar, which has found its niche among Japanese professionals, students and foreign tourists, is already in its 17th year of business. Add a rock band to the mix, and this group of Buddhist monks is taking unorthodoxy to new heights.
Customers drop by just to grab a drink or two and unwind, receive "spiritual guidance" from these men of the cloth, or quietly enjoy the meditative atmosphere of a Buddhist temple-like setting.
"Japanese people, such as salaried workers, traditionally find bars as a place where they can pour their hearts out to the bar owner, relax and gain some kind of support. Add a monk in the picture and I believe that would be double the impact," Fujioka said in a recent interview.
The 40-year-old, who dons the trademark black robe worn by Buddhist monks while he tends bar, belongs to the Jodo Shinshu Hongwanji-ha school, which follows the "True Essence of Pure Land Buddhist Teaching."
"People may think alcohol and Buddhism are exact opposites, but they actually fit well," he said, noting how such drinks can be a good way for customers to loosen up and talk.
"By drinking alcohol, people can let off steam on whatever resentment they feel and perhaps this could be a (good) time to listen to Buddhist teachings," Fujioka explained.
The bar's name is a play on words — "vows" in Buddhist teachings and the Japanese word bozu, meaning a Buddhist monk and referring to his clean-shaven head.
Customers, many of whom are women, come to seek advice about romance or other relationship woes, Fujioka said.
Foreign patrons also fancy the concept of being in a "temple-like atmosphere" in a country where public affinity among the younger generation to the ancient religion is waning, despite the fact that, according to the Cultural Affairs Agency, there are around 80,000 Buddhist temples nationwide.
Andrea Fallas, 31, and Federico Barrantes, 36, from Costa Rica, who were on a monthlong honeymoon in Japan, called the bar concept a "perfect balance." The couple learned about the bar online, and the experience was an eye-opener, Fallas said.
The smell of incense wafts through the bar. Spiritual and ritual symbols known as mandala and Buddhist sutra scriptures adorn the walls, and there is even a Buddhist altar in the back.
Cocktails, which act as conversation starters and come labeled as various spiritual concoctions, such as Gokuraku-Jodo (Nirvana in the Pure Land), Mugen-Jigoku (Never-Ending Suffering in Hell) and Aiyoku-Jigoku (Obsession with Love, Leading to Hell), are served. "Every drink has its story. That's very interesting," Fallas said.
Customers pay a cover charge of ¥500, a temple admission fee of sorts. They can sit at a table or bar counter to talk with as many as five to six monk/barkeeps on a daily basis. Around 10 monks belonging to different schools of Buddhism tend the bar.
Bar hours are from 7 p.m. to 1 a.m. and customers can participate in chanting sessions and listen to sermons or homilies in Japanese on the religion's precepts twice a day.
"It's not normal based on our culture as we don't relate religion with having a bar," Barrantes said, adding the Vowz Bar still "feels like you are in a sacred place, like in a temple."
Fujioka, who joined the bar in 2001, a year after it opened and after a similar one opened in Osaka in 1992, said he has embraced Buddhism as his "way of life" but makes sure not to impose his religious beliefs on people while listening to their concerns.
Smoking is also permitted in the bar, which seats 23 people. The space is about 30 square meters and occupies the second floor of a building located in the city's Yotsuya neighborhood. When crowded, customers can use the third floor, which is half the size and can accommodate roughly 12 customers.
"I try to see things on the same level as the people who come here and empathize with them. I do not act like they should hear me out from the standpoint of an enlightened person," Fujioka said.
Fujioka said his idea of a Buddhist monk is one who interacts more with people, rather than focusing solely on the daily tasks of officiating at funerals and memorial services.
While his Buddhist school does not ban alcohol, Fujioka admits the bar receives at least one or two complaints a year — a reflection of the entrenched, traditional view that Buddhism and alcohol do not mix.
Criticism aside, Fujioka takes comfort in the majority who support the "unique" concept and hopes to bring Buddhism closer to the public while upholding the core tenets of the religion.
"In Japan, the image of Buddhism is strongly associated with funerals and monks reading the Buddhist chants or scriptures. People often have a gloomy image of Buddhism, but Buddhism is about making life easier," he said.
In a society filled with work-related stress, Fujioka said there is a need for people to be more flexible in their thoughts and actions, and hopes Buddhism can help in this process.
In another break from the norm, and another reason for critics to rail against him, Fujioka performs with fellow monks in a rock band. In their latest concert in early April in Tokyo, the band performed before a full house of 130 people, with songs that relay Buddhist teachings in a comical way along with comedic spiels.
"I've gone to their concert a couple of times because I love stand-up comedy and I like one of the monks in the band, who is also a comedian," a woman in her 30s who also frequents the bar said, adding that had the music been more in line with traditional Buddhist presentations, it might have turned her off.
Despite criticisms by other Buddhist monks and followers of the faith who call their music "worldly," Fujioka believes the spiritual tunes — as well as the bar — reach a broad audience.
"Customers come here with a preconceived notion or are unfamiliar with Buddhism and leave with a discovery of what it is." He hopes customers feel free to "drop by, feel comforted, and then take off" to their next destination, having learned a bit of Buddhism as a "way of life."