The Buddhist View of Kindness
by Wayne Codling, Vancouver Courier, May 12, 2018
Vancouver, Canada -- The mere fact that Buddhism exists is proof that harmlessness can be the root motivation of human life just as powerfully as the 'western' world's embrace of righteousness as the best metric. In the Buddhist world view it is more important to be kind than to be right. As our world gets smaller the need for wisdom about how to live together on the planet grows in urgency.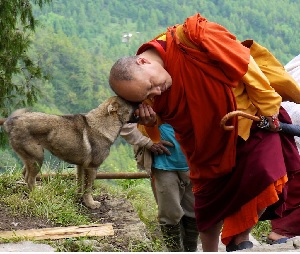 A world view that takes the pursuit of zero-harm as the ideal requires meditation in order to locate true complicity in the causal structure of suffering.
Zero-harm is a religious ideal while suffering is the real-life problem that presents itself. We get closest to zero-harm in meditation. Harmful thoughts are relinquished, we are silent and our mind/body is almost still.
For the Buddhist worldview, kindness is an antidote to suffering. To the degree that we, collectively, can step off a reflexive insistence on being the definers and the arbiters of right and wrong and instead embrace the alleviation of the world's suffering; to that degree we will bring into being a livable world for the world's future.
In the pursuit of a shift to a more convivial worldview it is not the case that doing the right thing and being righteous becomes unimportant. It is very important just not more so than a deep concern to not bring harm to others.
Behaviour matters. Right behaviour is critical in terms of living together. Buddhism does teach with some specificity several aspects of life that need special vigilance. Crimes like stealing or assault as well as levels of heedlessness are avowed and rejected.
We understand this at a tribal level but now we must up the ante. We must protect and benefit all peoples, be kindness itself with a 500-year perspective.
Can we do this? Can cultures co-exist? Can cultural pride be generated through fidelity to harmlessness? Is there an archetype for this from which a cultural identity might be crafted? Personally, I would propose the Jesus of the sermon on the mount.