Responding to evil
by REV. DR. DEBORAH BARRETT, Zen Center of Orange County, The Buddhist Channel, Sept 10, 2005
Costa Mesa, CA (USA) -- After Hurricane Katrina's devastation of the Gulf Coast region, there were reports of looting, shooting at rescue crews, and other criminal acts. Are such actions indicative of humanity's depravity, or are they just a painful -- though widely viewed -- exception? How should people of faith respond to those images?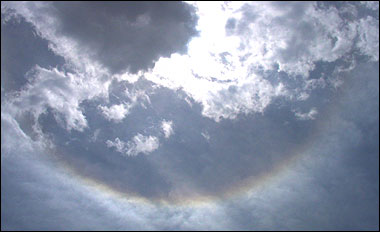 They are neither indicative of "depravity," nor exceptions to the human condition. They are life as it is, a treasure even in the midst of wrongdoing, desperation, chaos and suffering.
Why do people intentionally hurt other people? What causes me to do or say the wrong thing? Spiritual traditions try to help people come to terms with the dark side of life. We want to understand what causes it, how we can do our best to avoid harming others, and then how to respond when we and other people are responsible for causing suffering.
In the Zen Buddhist tradition, a bodhisattva is an awakened being who hears the cries of all who suffer. Each person is viewed as a bodhisattva, called to develop the ability to listen more attentively. We try to see through the walls we have constructed to protect ourselves from caring and grieving, defenses that block the free flow of our own compassionate nature. It is just natural that we go online to make a donation to the Red Cross or get out in our own community to help others.
From moment to moment, we can experience our life as a cycle that includes the aspiration to do our best, the inevitability of falling short, a natural desire to atone and a resolution to do better. We can find deep satisfaction in living this cycle authentically.
Most of our problems come from seeing only one part of the cycle: to have strong aspirations but be blind to shortcomings; to make mistakes but resist feeling guilty; to be stuck in remorse and unable to move forward.
The wholehearted living of this cycle helps us to see the big picture about ourselves and others. It does not mean "anything goes."
To adapt a poem by Vietnamese Zen teacher Thich Nhat Hanh, we can say, "I am the mother whose child is missing, and I am also the sniper shooting at the rescue team. I am the body floating in the water, and I am the also the volunteer taking food to hungry children. I am the elderly person lying on the baggage claim carousel, and I am also the teenager stealing a TV set."
We see ourselves in all of life, rather than in separated compartments.
The images presented by media help awaken us to the many needs of the people of New Orleans.
More serious than the anarchy that follows a disaster is the stealthy harm done by globalization and irresponsible corporations, for which many more images are needed.