Relentless pursuit of happiness
By ISHWAR PATI, The Statesman, Nov 20, 2005
NEW DELHI, India -- There's this little story of a place somewhere at the end of the earth that was finally "discovered" by the nosey Americans.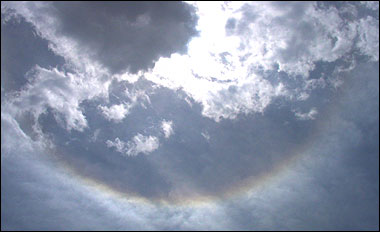 They are, as you know, forever on the lookout for research topics – from the spread of AIDS in Africa to the mating habits of the migratory Siberian cranes. Only the hint of a "kinky" subject to arouse their interest and they will pour their hard-earned (!) money into it with zeal.
When one American heard of the legendary "laziness" of this tribe in a far corner of India, he promptly took a flight and landed there. His aim was to minutely study their characteristics and prepare a project report on how to counter their lethargy, so that they would not be "left behind" on the road to development.
After a series of rides by taxis and buses and jeeps on user-hostile roads, the American landed at a small village around noon. Most of the menfolk had gone to the fields and the women were too shy to come out of their huts to talk to a white stranger.
Walking around with his interpreter, the American found a young man sleeping under a tree by the side of a large pond, enjoying the cool breeze.
"What are you doing?" asked the American, excited to discover a real specimen of laziness so soon, though inwardly he was peeved that a young fellow was wasting his prime time for work in being lazy.
"Can't you see for yourself? I'm dozing," retorted the young man, peeved that his siesta was being so unceremoniously disturbed.
"Yes, but what do you do for a living?" the American asked via the interpreter.
"I catch fish," said the man, indicating towards the pond.
"How many did you catch today?"
"Two really big ones" he replied with a smile.
"What did you do with them?"
"I sold them in the market".
"Then, why are you not catching fish now? You could easily catch two more."
It was the turn of the young fisherman to look baffled. "What for?" he asked.
"You can sell them too and make more money."
"What for?" repeated the lazy fellow.
"Well, you could buy some fishing gear."
"What for?"
"To catch more fish, obviously."
"What for?"
"Why, to multiply your money, you fool!"
"What for?"
"So that you can afford a bike, a mobile, a TV – even a pucca house."
"What for?"
"Damn it, to be happy of course!" the irritated American burst out.
"I am happy as I am," calmly answered the specimen of laziness, taking out his flute to blow a few notes. "Why do I need to go to all that trouble for something that I already have in plenty?"
The American came away chastened from his latest research project. But it's doubtful whether he found any takers for the results of his study in his own great land – the land that swears by its citizens' inalienable right to "pursuit of happiness".