The spirit of the dying teaches some lessons of life
by KARNJARIYA SUKRUNG, Bangkok Post, Nov 16, 2004
Bangkok, Thailand -- Some friends teased me when I told them I was going to a workshop on peaceful dying, for the third time. Morbid obsession, they said. Has something been bothering you?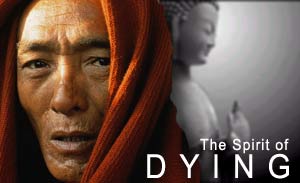 Death and dying has been my interest since I was little. I observed my great grandparents and an uncle who died at home, my grandparents who died in hospitals, and heard of the untimely deaths of my student friends and teachers. I want to understand this better, and hope that I will be able to make this unavoidable departure or transformation meaningful and blissful to all whom I know, including myself.
It sounds contradictory but the more I learn about dying, the more I learn about living.
The highlight of the recent workshop came when all 30 participants, predominantly doctors and nurses, visited last-stage cancer patients at a rehabilitation centre in Songkhla. About 10 patients live there, to receive chemotherapy and radiation treatment. Our mission? To learn to communicate with the patients and cheer them up; to lend emotional and spiritual support to help them cope with the pain and trauma, and just to express our goodwill by performing compassion meditation with them.
As a novice, I was nervous, for I did not know if the person with whom I would share brief moments would be willing to share his fear and agony with a stranger. Nurses who had been tending the patients gave me good advice: It is the heart that is important, not the skills or techniques. "Use your heart when you talk to the patients."
I walk up to an old, emaciated man who is sitting on a thin mattress at the end of the hall. His name is Tina, and I call him Pah Tina. (In the southern Krabi dialect, Pah means father. It is a term used to show deference to the elderly.) He is an old man, in his 70s; I am a woman, four decades his junior. He is Muslim; I am Buddhist. He is a subsistence fisherman; I am an urban salary worker. He speaks southern dialect; I do central Thai.
On some occasions, these identity differences would become obstacles, even bring about conflicts. But now, at the threshold of his death, the differences do not matter. Life does. I breathe the air he breathes. When I hold his feeble hands, I can feel his pulse. It is weaker than mine. When he describes his pain from the cancerous tumour on his neck, I recall having a sore throat, and imagine it intensified several times.
Language was not a barrier between us. Mostly, we used the language of the eyes and touches to communicate our feelings. It was strange, though, that in these circumstances it was not at all difficult to break the ice. Even in his agony, Pah Tina could exchange broad smiles and laughs with me. Although his voice became increasingly hoarse, he continued to share stories _ his health conditions and his pain, his life in the past, family, pride, worries and wishes. He beamed with happiness when he said he had just become a great-grandfather. His grown-up children are settled and he has divided all his possessions among them.
As a subsistence fisherman and farmer, he seemed proud to have been following the ancient fishery traditions of posing no harm to the environment. He also was proud of his traditional, homemade kapi (pungent paste made from shrimp-like kuey).
Before we left, he gave us some kapi, and it was the sweetest I ever have smelled. If you can tell a person from the way they cope with problems, imminent death in this case, then Pah Tina must have been a kind, understanding, and positive man. And caring father, too. One of his grown-up daughters came to stay and take care of him during the month-long treatment. Others also pay him regular visits. He never is lonely. For Pah Tina, the illness is God's test of his faith, and death is a chance to be reunited with the Supreme Being.
"I'm not afraid of dying," he said. "It's a blessing already that I have lived this long." He smiled.
I was told that some Muslims may relate meditation to Buddhism, and thus may decline our offer of a compassion meditation. But Pah Tina instantly embraced the idea. "No problem," he smiled.
So four of us, Pah Tina, two nurses and myself, formed a small circle, held each other's hands, closed our eyes and fell into deep silence. I visualised him in a warm light and prayed for his Supreme Being to take care of him, in sickness or death. After some 10 minutes, we opened our eyes and exchanged smiles. "May God be with you," I said before leaving. And I truly believed that.
Those who give will beget, said Phra Paisal Visalo, who led the workshop. Indeed it is these patients who gave us emotional and spiritual support. Their strength in coping with agonising pain and imminent death empowers us to get through the tension in our lives, and inspires us to let go and enjoy living. Also, they showed us that sickness and dying cannot take away the spirit.