The Buddhist Philosophy Rings True For All
By Anna Feldman, The Turts Observer Online, February 6, 2006
Boston, Mass., (USA) -- With the first two weeks of second semester under our belt, we hopefully have some sort of conception of how the rest of the semester will fare. In my case, my future looks quite dismal (in a good sort of way). I am going to be very busy, more so than I have ever been, which naturally makes me anxious.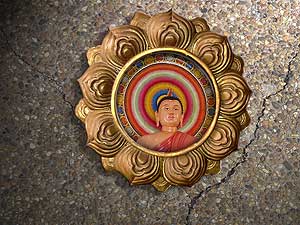 More classes, more activities, more responsibilities—the stress and pressure from all these have already become known to me (as has lack of sleep). What to do? It sounds pretty ridiculous, even to me. I mean, for crying out loud, it's only been a week! I can't already be ready to quit! There is hope though. Please read on.
On my walk (my journalistically - motivated walk, of course) from Harvard Square to Central Square this weekend I happened upon quite a wonderful place. While on one side of Mass Ave., I had to do a double take and cross the street to actually read the small gold cursive lettering on the green awning outside this one particular building: The Greater Boston Buddhist Society Culture Center. Since I started practicing yoga about a year ago, I have discovered a simultaneous interest in Buddhism, and find myself instantly attracted to anything related to the religion. I'm still not sure if this interest was spawned from the unprecedented popularity that Buddhism is experiencing right now in the West, or if it was due to the recommendation of the book "The Jew in the Lotus" by a friend of mine, a fellow Jew who has discovered Buddhism, or if it was the logical road to follow, having started to do yoga and wanting to understand the undeniable connection between the practice and the religion. I think it's safe to say, it was a healthy combination of all three.
With my pen and notebook in hand, I stood in front of the window and started jotting down the hours of the Buddhist Center. I was addressed out of the blue though by a young woman who congenially invited me in to see the inside and collect some brochures with more information. A little flustered by the utmost friendliness of this complete stranger, I thanked her with sincerity. As I stepped inside, the sweet musty odor of incense overtook me, followed by the chanting and bell-ringing occurring in the beautifully lit meditation hall, which sent shivers down my spine. Never had I felt more welcomed and at ease, especially in a religious establishment not of my own faith.
As I discovered from one of the brochures I picked up, the GBBCC was established in 1999 and is a branch of the Mount Buddha Radiance Monastery in Taiwan. They strive to provide their congregation, as well as the wider community, with educational opportunities, cultural events, and conduction of meditation services. I was a little surprised to find what looked like a restaurant to the right as I walked in. It is actually a tea house/vegetarian dining room, used for group dinners, meetings, classes, art exhibitions, and fund-raising events. The meditation hall, and joint bookstore/gift shop fill the rest of the space. Radiating with gold and red hues, the former was an absolute sight to behold. Gold everywhere, red tassles hanging from the ceiling, two huge Buddhas in niches facing the congregation, bells being beautifully chimed, two monks leading the worship and thirty or so people responding in haunting, melodic voices. The holiness of the experience pervaded me completely. The GBBCC offers classes (yoga, tai chi, zen meditation) for which you have to register. Another nice option is the free walk-in meditation Tuesday to Friday from 3:00-5:00 p.m.
Having been raised Jewish in a very practicing household, the initial thought of discovering another religion frightened me. Or more so, it made me feel like I would be a traitor to my people, that I would be accused of the need to find another, more satisfying experience. I'm not saying that I have now become a devout Buddhist (it takes a long time) or have totally abandoned Judaism, but I definitely appreciate the options of learning about different concepts and beliefs and in general seeing life in a new manner, a new light.
If 950 Mass. Ave. is too far for some of you to venture out, then consider the option we have right here on campus. The Tufts Buddhist Sangha. Sangha meetings, which take place Sunday nights at 7:00 p.m. in the Terrace room, are very informal and just plain relaxing. Every week new people stop by (I was one of them this past Sunday,) some who have been practicing for quite some time and others who don't know a thing about Buddhist philosophy and practice but still want to learn about it. The meetings begin with a short meditation led by Justin Green, the group leader on Sundays, and end with a longer one, for which listening aides are available. In between the meditation sessions, the floor is open for questions and reflections on certain issues, which Mr. Green tries to address as fully as possible. On Wednesday mornings, as well, Sangha meditation sessions occur in the Tufts Chapel.
At the last Sangha meeting, a fascinating concept was brought to light: that Buddhism is more of a philosophy than a categorical religion. So in that sense, it can be combined with other religions, be it Judaism, Christianity, Islam, Hindi, whatever. In the end, it all comes back to a mindset. And this mindset is what I am proposing to all you stressed-out college students out there, in need of an internal repose from the busy lives you lead. Even five minutes of complete concentration on your inner self, acknowledging your thoughts and emotions, will make a difference. Turn off your music, put away your books, and focus on the world behind your closed eyes.
The Sangha meetings are now going to become, as often as I can make them, a part of my weekly routine. It's something I've discovered as a way to unwind. Recoup, so to speak, for the busy busy week ahead. I encourage you all to give meditation a shot, be it at the GBBSCC, a Tufts Sangha meeting, or right in your dorm room.