Empowered by FAITH
BY VASANA CHINVARAKORN, Bangkok Post, July 7, 2006
There was general agreement at a recent seminar that physical - and, to some extent, mental - disability does not hinder one from following the path towards spiritual enlightenment, but that in practice the majority of religious establishments have tended to overlook the plight, and potential, of the handicapped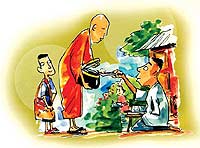 Bangkok, Thailand -- It's bad karma at work. A manifestation of evil. A punishment for past sins. Religion has often been used to explain - justify - why some people suffer from one or more kinds of disability. And instead of providing spiritual solace, many religious institutions are run in such a way that those who already have difficulty in seeing or hearing or performing other normal bodily functions find it doubly daunting to gain access to teachers and their words of wisdom.
A group of disabled people met recently with medical personnel, academics and representatives of different religious denominations to explore alternatives to the prevalent stereotypes - and practices - affecting their lives. Entitled "Roles of Religions and Disability in Thai Society", the seminar was billed as the first, comprehensive forum on this sensitive and complex subject. During the two-day event, held at Mahidol University's Salaya campus, the blind, deaf and deaf-mute, people in wheelchairs or with other disabilities had opportunities to share their experiences with Buddhist monks and a bhikkhuni (female monk), Catholic missionaries, Muslims, a Sikh and several lay practitioners.
Some of the speakers made one wonder who, in fact, the real "disabled" actually are. Now a well-known dharma teacher, Kamphol Thongboonnum has been confined to a wheelchair for 27 years after an accident that left him paralysed from the neck down (see sidebar). His discovery of an innovative meditation technique over a decade ago brought him a state of mindfulness that prompted the declaration: "I have resigned once and for all from [spiritual] disability".
"Society nowadays suffers from problems caused by many able-bodied individuals whose minds are yet crippled by desires," Kamphol told the audience. "We could say that these people are in greater agony than the physically disabled like you and me."
A similar message was repeated by other speakers. Wuttichai Nuchanart, a Muslim volunteer teacher, told of the struggle he had during his childhood coping with the fact that his parents had abandoned him because he was born handicapped, and how his devotion to studying the Koran confirmed his belief in God's boundless kindness. Despite the physical hardships he suffered, Wuttichai went on to work full-time helping other disabled folks and teaching Islam to them in their homes or at the local mosque.
Later on during the seminar, Amarjit Kaur Doowa noted that the Sikh scriptures clearly stipulate that the term "disability" refers less to any physical or mental handicap than it does to "disability of the soul".
"In other words," she said, "it is the impure mind that is overshadowed by vices that have taken control of our lives and actions. As a result, it 'disables' us from our purpose of life, from seeking the truth, purity from within."
There seemed to be general agreement at the meeting that, at least at the theological level, physical (and, some would say, mental) disability does not hinder one from following the path towards enlightenment. In practice, however, the majority of religious establishments have tended to overlook the plight of the disabled. Parichart Suwannabuppha, a lecturer in comparative religion at Mahidol University, argued for a more widespread application of audio-visual and other technological aids to give the disabled equal access to, and to encourage them to participate more in, religious activities. Religion should be integrated into the daily lives of members of this minority group, she said.
Ratchasuda College, a facility for the disabled in Nakhon Pathom under the patronage of HRH Princess Maha Chakri Sirindhorn, has introduced a set of daily Buddhist prayers in sign language for hearing-impaired students. According to its director, Jitprapa Sri-on, about 15 schools around the country are now enjoying the benefits of this.
"In fact, this is an improved version developed by students of ours who went through a rigorous, 49-day retreat at a forest temple three years ago," she said. "Having experienced the true value of mindfulness, they were better able to express the meaning of the prayers and how grateful they feel towards the Buddha, his teachings (dharma) and the Sangha (monkhood) for showing them ways to alleviate their suffering."
Gaining the understanding of local communities is also crucial for the well-being of the disabled. Sister Mary Walter Santer, a US expat, cited the case of patients at a hospital in the Phra Pradaeng area who have learned to take care of each other despite differences in religion.
"It's a touching picture - a girl in a wheelchair trying to feed some fruit to an old lady," said the missionary. "They come from different walks of life and faiths and have different disabilities. But what they do is exactly in line with Christianity: We must love one another as much as we love ourselves, as much as God loves us.
"The world is in need of love and compassion. The presence of the disabled has provided us with an opportunity to show our love for each other. But nowadays many people have turned more and more inwards, living in their own worlds, trapped by the use of mobile phones, computers and TVs."
Parichart, the Mahidol lecturer, proposed that senior Buddhist monks (and other ecclesiastical leaders) could play an important role in re-shaping public opinion vis-a-vis the potential for the disabled to make valuable contributions to society. Her research assistant, Jatuporn Chaithongsri, related how she had come across a temple in Bang Rahong, Nonthaburi, where the abbot had taken in a pair of former patients from Srithanya Hospital for the mentally ill.
In 1995, Phra Khru Kittisunthornpipat faced a lot of opposition when he allowed two "mentally disabled" people to do odd jobs around the temple. The move provoked much resentment among local folk and some individuals who strongly doubted the wisdom of the abbot's decision even launched a mini boycott, Jatuporn said, because they found it hard to accept the presence of two khon baa (lunatics) in their community.
"But the abbot cleverly included the two in all the ceremonies performed on Buddhist holy days. They would follow the monks on their morning alms round, sweep the temple grounds, wash the saffron robes and utensils and participate in daily prayers.
"Now, there are eight of them living at the temple. From time to time, villagers come to ask them for help in their fruit orchards. The level of cordiality has now reached the extent that, on the morning alms round, villagers will give a special signal to let these helpers know that they can expect to find their favourite dishes among the food offered to the monks."
Such cases of successful re-integration are few and far between, however. Several of those attending the seminar shared their frustration about the way the disabled are stigmatised by Thai society; some saying they had converted to another religion which seems to provide better support for and understanding of their condition.
After all, the fundamental obstacle - a source of long-time "dis-ease" among the disabled - is how the tenets of various religions have been exploited to marginalise the disabled, notably to prevent them from becoming clerics.
Upon closer scrutiny, though, it turns out that most religions profess to reserve a special place for those in dire straits. Anas Amatyakul has found that the Koran specifically frowns upon condescension to or gossiping about individuals with certain deformities. The Prophet Muhammad himself was once chastised by God for turning his back on a blind man who had wanted to learn from him.
The New Testament contains several accounts of Jesus Christ performing miracles to cure the blind, the lame and lepers. Blindness, for example, is not the result of the person's, or his or her parents', sin, Christ was once quoted as saying, "but he was born blind so that the acts of God may be revealed through what happens to him".
Compared to other religions, Buddhism seems to have more conspicuous clauses against people with "improper" characteristics joining the monkhood. However, Phra Maha Boonchuay Sirintharo from Maha Chulalongkorn Buddhist University said he had found that the wording of these "bans" was rather indirect and conditional. Monks who permit the ordination of such people may be subject to a penalty, he said, but these newly ordained clerics would not be expelled from the Sangha merely on the grounds of their physical limitations. Likewise, those with certain contagious diseases are allowed to become monks once they have been completely cured.
"The rationale behind the bans could be the hardships of an ascetic life and the need for a fully integrated religious community in the early days [of Buddhism]," Phra Maha Boonchuay said.
"However, modern medical technology and rehabilitative treatment may enable the disabled to live normal lives and thus it might be time to review the monastic requirements [set during Buddha's time]."
Taking into account the concept of impermanence, karma is something that can be changed. Having studied the Buddhist law of Paticcasamudpada (co-dependent origination), Parichart argued that the disabled are part and parcel of society. They should not be regarded as a burden - for no one can survive on their own; we all need to depend on other people at some stage in our lives.
"At every moment, each of us is creating a new karma, the karma of now, which will in turn affect the events of tomorrow, next month, next year, next life. If we understand the teaching of karma correctly, we should not lose hope: We can always master our own destiny. But society must take a step to help the disabled, to enable them to have an opportunity to create a new and better karma; in short, to develop themselves spiritually.
"In fact, the presence of the disabled also teaches us a big moral lesson: We should learn to accept and appreciate diversity, people who are different from us. After all, these people have as much entitlement to live a dignified, secure life as any other human being."
The Buddhist Channel - Donate to Support Our Work
An Appeal

In deep gratitude for your support! We are half way to meeting our target (US$ 10,400 of US$ 18,000 already achieved)!
The Buddhist Channel is a dedicated group of "mindful communication practitioners" striving to make a positive impact on the Buddhist community. We deeply believe in the power of mindful journalism and are reaching out to you with a heartfelt request for your support. Your donation, no matter the size, can make a tangible difference in the lives of countless Buddhist monastics, local communities and other dedicated engaged workers. With your help, we make their stories known, and thereby opening up avenues for them to obtain sustainable support for their work.
Please indicate whether your support will be a donation or a loan. We will get back to you via email. We thank you in advance for providing us financial relieve. May the Buddha Dharma ever be your guide and protector.

Note: To date, we have received the following:

US$ 900 from Esa Myllykoski (donation)
US$ 9,500 from Lance Edwards/Kau Soo Kin (loan)

We express our deep gratitude for the support and generosity.
If you have any enquiries, please write to: editor@buddhistchannel.tv