Buddha Graduate School: Lessons on Life from the Dying
by Laura Young, Blogcritics.org, September 15, 2006
Chicago, MI (USA) -- A man I love is dying.
When I first met Michael 16 years ago, he was speaking to a group of spinal cord injured men during my clinical internship in psychology. Afterwards, I accompanied him to his car where he discovered he didn't have the strength to transfer from his wheelchair. Looking me in the eye he asked, "Have you ever transferred anyone?" "No," I winced. "Well, you are going to learn."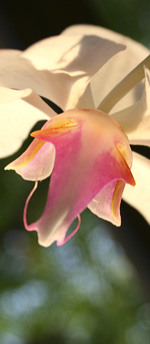 I thought he was talking about the car transfer, but I now know this was foreshadowing of much bigger lessons to come. The real transfer is still ahead.
I have long held the belief that everyone in my life is a Buddha, an Enlightened Being here to teach me something essential to my path. Preparing to lose Michael feels like enrollment in Buddha graduate school. Never have I experienced so much pain and never have I grown so much and felt so strong. Nothing clarifies life like death and no one teaches more about living well than those who are dying well.
Victoria Williams wrote, "That which you fear the most will meet you half way." As happens in middle age, questions of mortality have worked their way into my consciousness. As friends lose parents, siblings, and even spouses, I seem to have found myself surrounded by both the dying and the bereaved. At times it feels as though impending death has become my daily companion.
As the losses began to mount up, I tried my hardest to absorb it all, but facing an excess of 50 deaths (between family, friends, clients and neighbors) in a mere 18 months was stretching me to my limit. And of course, the thought that Michael, my dear friend and confidante, might be added to the list was nearly more than I could bear.
Were all these dying Buddhas coming around to teach me something?
Very kind of them to take me on as a student but, honestly, I didn't want to learn these lessons. I wanted to understand life and death without the messy learning curve. The fact was, though, that I didn't know how to say goodbye and asking for help didn't feel like an option. What was I supposed to say to Michael? "Help me grieve you. I know you are busy dying and all, but can you help me sort through my own feelings while you are at it? I can't quite seem to do this on my own." That seemed so wrong.
I was afraid I would appear weak if I revealed my fear and sadness. The anticipatory grief was overwhelming me and I was ashamed that would mean I was spiritually weak. I didn't know there was a difference between humiliation and humility. In desperation, I sat at Michael's feet and wept. "This is so much bigger than me. Will you help me?"
"Will you help me?" Four words that once signified the ultimate in humiliation for me became the bravest words I ever spoke. Michael said yes and my instruction began in earnest.
The lesson plan has been, and continues to be, quite a ride. Among the things I have learned so far, I now know:
• It is possible to embrace someone as both living and dying as soon as you give up the need to label the present moment. All you ever have is the present moment.
• Inner beauty, grace, and dignity trump expanding waistlines, unreliable bodies, and catheter bags every time.
• Self-care is not something to resume once the crisis is over. Crises have a way of stacking up.
• Collapsing from exhaustion does not count as relaxation.
• Time alone to reflect is critical. No one can do your processing for you.
• No one will ever know what my life looks like through my eyes. They don't have to.
Far from turning me into a morose and depressed individual, this journey with Michael is bringing an appreciation and understanding of what love and friendship are really all about. I spend far more time laughing with him than crying. He said once he thinks life is like a scary roller coaster ride — that we'll be terrified and screaming and want to get off, but as soon as it's over we'll want to get right back on. And like it or not, that boy just seems to insist on riding in the front seat.
And the truth is, so do I.
I am richly blessed to have such an able teacher in my life, even as I practice letting him go.
True love is fierce. It tests us in ways we could never believe ourselves capable of bearing. Yet, if one is brave enough to embrace the fact of our mortality and love even though we are ephemeral, the blessings that come along the way are without measure.

--------------
Laura Young is a life coach, author, photographer, and "deep water fish". If you enjoy her articles and are chewing over some big questions in your own life, please pay her a visit at Wellspring Coaching (http://www.wellspringcoaching.com/), where she has many additional resources for you. Also see Holy Moment Artworks (http://www.cafepress.com/holymomentphoto): Fine Art Nature Photography for Meditation, Contemplation, and Inner Peace.