Springhill Prison Buddha Grove Celebration
by Ven. Chao Khun Bhavanavitesa (Luangpor Khemadhammo) OBE, The Buddhist Channel, Oct 28, 2006
Springhill, UK -- Every year but one since its opening in 1992 we have celebrated the Buddha Grove at Springhill Open Prison. This wonderful place was the brainchild of Sam Cutler and built by the combined efforts of a number of the men then at Springhill led by Ian.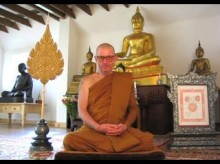 << Ven. Chao Khun Bhavanavitesa (Luangpor Khemadhammo) OBE
After the opening ceremony on a bitterly cold November night, with Thai people present, perhaps not overly impressed by the soup that had been offered, approached me and asked if next year they could do the cooking. And so began a remarkable tradition.
Every year on a Sunday afternoon in September a group of Thais, including restaurateurs and students, take over the kitchen at Springhill to produce a Thai buffet for all the inmates in the prison and all the guests who attend the evening celebration. It is an extraordinary and wonderful act of generosity. Then at about 6 o'clock in the evening we gather at the Buddha Grove itself, the meal follows in the canteen and then afterwards we return to circumambulate the Image of the Buddha three times with candles, incense and flowers.
On a warm September evening, Sunday the 17th, we did it again. As usual every year, we were honoured with the presence of Lord Avebury. Tim Newell, the former Governor, now retired, who permitted the building of the Buddha Grove, was there and asking me if he could take photos! We were welcomed by Peter Bennett, the present Governor and then the assembly of monks from five temples chanted the Parittas. Ven. Ajahn Maha Laow gave a short speech and was followed by Lord Avebury.
Then I called on a very special guest because on this evening I had determined to launch an attempt to offer support for Buddhist ex-offenders after release, a sort of Buddhist version of Unlock. Unlock is an organisation for ex-offenders and run by ex-offenders that does sterling work campaigning for better facilities for serving prisoners and supporting ex-offenders in rebuilding their lives.
Part of the reason for its success is that it is run by people in the know, including someone I used to visit in some pretty cheerless places some twenty years ago. Bobby Cummines and I met again at this year's Prison Service Chaplaincy Conference where he was the star of the show and I was delighted when he accepted my invitation to Springhill to help me launch Let Go. It's Bobby in the picture.
Let Go is what I am calling our Buddhist version of Unlock. Let Go, the title, is a word play on being let go from custody and the important Buddhist teaching of letting go of attachment, including attachment to one's past and attachment to one's views and opinions. Truly we should all learn from past mistakes, but then we must move on.
Thinking particularly of those leaving prison who have embraced Buddhism, I hope they will let go of past attitudes and the habits and actions that made them prisoners and move on to better things; and I hope that the rest of us can let go of our view of them as what they were. There is the prison of locks and bars and there is the prison of views and opinions, and of the two it is the second with the labels we attach - 'no good', 'evil', 'thief', etc - that proves the harshest and the longest lasting.
No one is just a prisoner, or a murderer, or a bank robber, or anything else for that matter and I believe we have a duty to give everyone the chance
to better themselves, to be free and to be happy.
Visit Ven. Khemadhammo's Blog at:
http://my.opera.com/Luangpor%20Khemadhammo/blog/