Buddhist begging bowl contains profound lesson
By Julia Gregg, Courier Press, February 16, 2007
Evansville, IN (USA) -- A friend and I have an ongoing discussion about what really matters - that is, what is essential to good living. We have this discussion, of course, from a historically privileged position.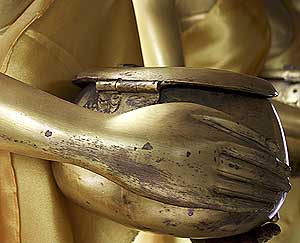 We're usually agreeing or disagreeing over pasta, dessert or flavored coffee, so it's safe to say Abraham Maslow's lower-level basic needs are usually off our radar screen.
But it's not safe to say that we don't struggle. She has five children, and I have so many lessons to learn that I deplete myself on a fairly regular basis.
One of my most recent profound lessons centered on this same friend's Christmas gift to me, a hand-thrown ceramic bowl, a Buddhist begging bowl. The lesson of the begging bowl, she said, is that what we need will come to us - that at the end of the day our bowls will have been filled.
But I am a worrier, I admit to her. I don't want to be, but my mother was, and her mother before her, so I suppose worry is in the genes. Sometimes I quietly and privately agonize about having enough time, money and energy to give to those around me who need what I have to give. Ironically, I tell my son - and I honestly believe it, despite my worry - that we are only a channel through which money, time, love and energy flow; what we give out comes back again to us. There will be enough.
I have placed the glazed begging bowl on my desk, and every morning it reminds me of my basic "channel" belief that rests somewhere within my core. Every night before bed I realize that - for that day - I have had enough. The lesson is reassuring.
I looked up the history of the begging bowl, and I found that the Buddha divided what was put into his bowl into 49 portions, portions that sustained him on his way to enlightenment. Once enlightened, he threw his golden bowl into the river, having no need for possessions.
I am hardly so evolved. I need my bowl. I like looking at it.
What my friend thinks we need, ultimately, besides basic sustenance, is positive relationships. She tells the story of helping an elderly acquaintance clear out a life's assortment of memorabilia and junk - an acquaintance with no family to assist her. "I was throwing away things that meant nothing anymore to anyone. She had no one left in her life, and I could see so clearly that the possessions that were left were valuable to no one. She was alone."
I see my friend's point clearly: In the end, nothing remains but what we have given to others through relationship and what they have given to us.
But I can't let go of the idea that beauty matters, too ... that it's not only the love, care, support, listening, thinking and sharing of ideas and food and drink that sustains us.
It's the perfect beauty of the hand-thrown sea-green pottery bowl wrapped in sunshine on the edge of the desk ... the perfect poem centered in the middle of the book lying open there, too.
Ah, but how much better that the bowl was a gift, my friend says. How expanded the poem becomes when it is shared.