A Monastic Life
By Grace Chen, The Cornell Daily Sun, January 23, 2008
Ithaca, NY (USA) -- It's hard to believe that just a couple of days ago, I was living in a temple with Buddhist nuns. Each morning at precisely 3:50 AM, I would arise at the clapping sound of two wooden sticks. Along with about 40 other young women, I had 10 minutes to prepare for the beginning of a new day (mind you, there were only four toilets and two sinks for the forty of us young women).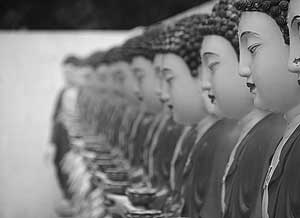 Now how did I find myself in such a living situation? In retrospect, I think it had to do with a touch of fate and a yearning to return to a place that once provided the tableau for one of the most memorable experiences I ever had.
The place is called Hualien - it's a rather rural city in the eastern part of Taiwan. This place, incidentally, is known for the beautiful Taroko Gorge- much like Ithaca's own gorges. The first time I came to Hualien, I was still in high school, and the local university here held a summer camp for Taiwanese high school students that are interested in the life at medical school.
In short, I had an amazing time at the camp (even though I was the only American), and I still keep in touch with the friends that I made back then. Somehow, Hualien resonated with me, and I have been looking for an excuse to go back again. After hearing about an opportunity to volunteer at the local hospital in Hualien, I finally found my excuse to travel back to this beautiful, mountainous region.
This time around, however, the living situation would be a little different. Instead of in a college dormitory, the 60+ overseas volunteers and I would be living among the Buddhist nuns of the Jingsi temple. Construction on the global volunteer dormitory made it so that we would have to live in the Jingsi temple instead. Consequently, all 60 or so of us college-aged volunteers had to adopt a monastic lifestyle for a week. This meant that in addition to following the dress code of the non-profit organization I was volunteering with, we would all have to wake up at 3:50 AM every day and be in bed by 9 PM.
The master of the monastery was a 1991 winner of the Philippine Magsaysay Award (also known as the "Asian version of the Nobel Prize") for her work with charity and she is the founder of the non-profit organization. Her care for the environment truly emanates in all the work that she does. Much of the food that is cooked is grown in the land around the monastery and all the Buddhist nuns are vegetarian. As such, all the volunteers living in Jingsi adopted a vegetarian diet for a week and all the volunteers had to bring their own, reusable eating utensils. Instead of tissues, we were to carry around our own handkerchiefs (thank goodness there was toilet paper though!). After living at Jingsi for a week, I began wondering why this woman has yet to receive a Nobel Peace prize while Al Gore managed to receive one after only making a mere documentary—but that's an aside!
The creation of Hualien's first hospital is a result of this woman's dream—a Buddhist nun's dream. The inspiration for the creation of this hospital came from the death of a woman. One day, a man traveled down from his home up in the mountains to bring his bleeding wife to the nearest hospital. His wife had a miscarriage and desperately needed medical help. By the time the man traveled to the nearest hospital—which was a good eight hours away—the people at the hospital told him that in order for his wife to receive treatment, they would have to first pay a deposit of US$200. This family had no money whatsoever, so the woman died in a pool of her own blood at the doorstep of that hospital. The Buddhist nun happened to see this sight and vowed to create a hospital that would serve anyone of any income.
I have to say, that although living among Buddhist nuns and following all their rules was slightly stressful, the experiences I had as a volunteer made the discipline worthwhile. During winter break, I was fortunate to be able to spend some time volunteering in the hospital founded by the Buddhist nun. The hospital was established in 1986 and it now serves as the only medical center in eastern Taiwan.
I truly looked forward to spending time as a volunteer at this particular hospital because of this hospital's philosophy for treating patients. The hospital not only provides the standard medical care of any hospital, but also has a very humanitarian approach towards working with patients. The main buildings of the hospital, for example, are named "Great Love," "Gratitude," and "Respect." In addition, the hospital typically has about 60 to 80 volunteers to assist patients in any way—from opening the door to talking with patients on their deathbed. The respect (manifested in the form of immense patience) that the doctors and nurses have for the patients was definitely noticeable.
I was placed to volunteer in the internal Intensive Care Unit (ICU). Many of the patients in the ICU were elderly people. And yet, there were also a few younger patients on the cusp of death. The stories behind each of these patients and their families constantly threatened to bring tears to my eyes. The time I spent wandering around the ICU and attempting to converse with elderly patients in my broken Taiwanese was emotionally loaded, yet inspiring. Prior to volunteering, I would have expected to learn more about medicine; instead, I came away with a newfound appreciation for family and a greater understanding of gratitude.
One family in particular resonated with me. The patient was a middle-aged man who was suffering from leptospirosis, a relatively rare bacterial infection. Due to his illness, he was too weak to move and his breathing tubes prevented from speaking—he was basically in a near vegetative state. Families and friends essentially have from 10:30 to 11 a.m. and 6 to 6:30 p.m. to visit patients in the ICU. Everyday, during these visiting hours, the man's grown daughter and son would dutifully visit. Watching the interactions between a child and their sick parent was heartbreaking, yet uplifting, because there were other patients that never had visitors. Although the man with leptospirosis could not respond or display much emotion, his son and daughter would always bring family photo albums or a video of his grandchildren to show their father. For any person, socializing with an unresponsive person can be discouraging; yet the son and daughter spoke to their father with such sincerity and genuine love. When I initially began observing this patient, I honestly felt like there was no hope for him. Yet day by day, I noticed improvements. On the last day of volunteering, I happened to watch the man's son wiping tears from his father's face as he showed him family photos. Shed tears—that was all the patient could do to respond.
After a day at the hospital, I would return to the temple where I was staying and have dinner at exactly 6 p.m. During the evenings, the rest of the volunteers and I would typically watch about an hour of the evening news, have a short class on a Buddhist text, and then prepare for bedtime at 9 p.m.
About two days into my time at Hualien, one of the Buddhist nuns shared a piece of advice on how to be a good volunteer. She said, "You must remember to use your eyes to hear and your ears to see." I have to admit that I still don't fully grasp what this means, but I think it's a reminder to observe fully all the people in suffering that you encounter and compassionately empathize. Although I myself am not Buddhist, I have to say that was advice I needed to hear (and incidentally, touches on the name of this blog!).
While flipping through one of the books at the hospital's bookstore, I also ran across this aphorism: "Be grateful to those who receive your help, since they show you that life is impermanent and can be full of bitterness." In general, people usually expect to be the ones who get thanked when volunteering—but I think it's true, we should actually be the ones grateful to those that we can offer a bit of help. They remind us able-bodied people of how much more we can do for this world and help us realize that we are all surrounded by many blessings.