The Meaning of Buddha's Birthday - Gratitude
By Han Sang-hee, The Korea Times, May 11, 2008
Seoul, South Korea -- While many spend their birthdays celebrating their birth and well being, some birthdays deserve a bit more. Although Buddha achieved enlightenment, but he was eager to stay behind and help others to do the same. In this sense, Buddha's Birthday should not only be about celebrating with parades and lanterns, but thanking him for believing and spreading his wisdom.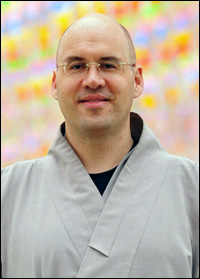 << Ven. Chonggo sunim
``It's about gratitude. We talk about Buddha's Birthday, but I like the Korean version: the day Buddha came,'' Chonggo sunim (``monk'' in Korean) told The Korea Times during an interview at the Jogyesa, or Jogye Temple Thursday.
``It is not the day he was created, but the day he appeared and stayed in this world. He didn't become the Buddha to be worshipped, or to have a high position where people would treat him nice. It was because he wanted to help other people. Even if there were only a few people who could understand and be able to free themselves, he thought it was worth doing. And so he stayed here for another 40 years on his own accord and helped people. That's why he stayed,'' said the monk.
Chonggo sunim is an American who first came to Korea in 1993. He attended a lecture by Ven. Daehaeng, or Daehaeng ``kun sunim'' (Grand Master) in Korean, at his school in the United States and was fascinated by the teachings. After achieving his master's degree in Dongguk University in 2002, he now gives lectures and works to pass Buddha's teachings on to the public.
"The reason I came here to study Buddhsim was because in terms of spiritual development, Korea is a very good place to practice,'' said Chonggo sunim.
Korea is known to have a long tradition of individual experience and practical teachings. Perhaps this was why Chonggo sunim participated in translating various books and teachings for those who were interested in Buddhism, but didn't know how and where to start.
``Personally, I like the stories and examples about people who practice Buddhism. People tend to get excited about ancient masters like Wonhyo, and I also find them very interesting. But the problem is that they (lived) so long ago, and accurate records of their teachings are almost nonexistent. They all had something that helped them awaken, but you must think how much the world has changed in the last 100 years, and how people's way of thinking has changed,'' he said.
This may be the reason why modern ``kun sunims,''' roles are important, for their teachings can be applied to the people who live with them today.
According to the Buddha, everyone is connected to each other. The Buddha saw himself as a part of everything in this world and believed all was one. The reason the Buddha stayed after his enlightenment was because he saw others' pain as his own. Feeling their pain, he was able to remember his sufferings when he was ignorant and did not know any better.
While some religions say that people are incomplete, Buddhism explains that everyone is in fact 100 percent complete.
``(The Buddha said) to wake up to the potential within you. He knew it from his own experience. It's not the question of adding something. Everybody is 100 percent complete. They just don't know it,'' said Chonggo sunim.
``It's like the root of a tree where all the energy goes back and forth. But we rely on others' approval, money and recognition. It's like we are trying to get nutrients from something other than our roots. Buddha nature is where the nutrient comes from. The more we search outside of ourselves, we are turning our backs on where the real source of nourishment is.
What does the day Buddha came, or Buddha's Birthday, mean to you?
``It is gratitude for somebody who wanted to teach us. It is not a coincidence that Parents' Day and Teachers' Day are always around Buddha's birthday. In this sense, its gratitude to teachers, but also a reminder of the potential within each of us,'' he said.
Chonggo added that the fact that Buddha was born in spring was not a coincidence, when life and vitality appears.
``When we begin to experience our Buddha nature, that's where real energy, vitality and satisfaction comes from. To me, that's the meaning of Buddha's Birthday,'' he smiled.
You can meet Chonggo sunim and many other Buddhists at a dharma group discussion held every Saturday 2:00 p.m.-3:30 p.m. at the Buddhist English Library of Seoul near Anguk Station on subway line 3. Also learn more about Buddhism with Daehaeng kun sunim's book ``No River to Cross.''