Buddhism, Gautama Buddha, Indian Way and Humanity
by Dr. Ravindra Kumar, Scoop, September 1, 2008
Auckland, New Zealand -- In spite of not having faith in Godlike Supreme Power, like Jainism, Buddhism has also made excellent contribution towards strengthening the Indian Way, particularly making it dynamic and in bringing the common men to its fold.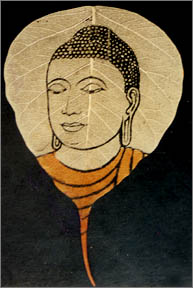 Especially, the role and contribution of Gautama Buddha, the Light of Asia, who took the Indian Way in the right direction at the time when contrary to its fundamental spirit it was made narrow, cannot be underestimated. As known to all, it was during the time of Gautama Buddha that Buddhism flourished parallel to Hinduism [Vedic view of life] and Jainism, and it deeply affected the lives of millions of Indians.
Later, going beyond the territorial boundaries it became the basis of life of many around the world. For the solidarity of the Indian Way as well as the welfare of humanity, the long memorable work done by Gautama Buddha in three directions, accorded him the stature of the Jagatguru-the world's mentor. Prior to analyzing his long memorable work, it is necessary for us to know in brief about Buddhist philosophy and tradition.
As per the mentions in the Buddhist treatises the roots of Buddhism are very deep. Buddhism has been in existence much before the birth of Siddhartha–Gautama Buddha. The names of Kashyap, Kanakmuni, Krakuchhanda, Deepankar, Mangal, Soma and others appear in the Buddhist treatises and they all rose to the stature of Buddhas before Shakyamuni Gautama. There is a mention about one thousand Awakened-Buddhas and Gautama Buddha is one of them. According to the Buddhist belief this chain of Buddhas will continue in future also. Maitray will be the name of the next Awakened-Buddha on this earth.
Buddhism is deprived from the word 'Buddha'. It is an easily accessible and practical way of life shown by Buddhas [Awakened]. A Buddha develops all positive virtues in him. By overcoming all kinds of negative approaches he raises to the stature of world's mentor. In all circumstances he remains alert. Buddhatva is the highest stage of man's development. A Buddha on the strength of his developed virtues becomes the great guru [teacher] of the world, and thus he is recognized as the Jagatguru.
Anyone, after knowing the truth that his life surrounded by sorrows and difficulties is becoming meaningless, through self-control, self-restrain and self-discipline and by following the Samyak Marg [Middle Way], can get through his boat of life. Thus, he can make his life purposeful. Moreover, by continuous practice of good acts he can develop virtues and through them can come out the bond of sorrows or the binding wheel of grievances, and ultimately he can attain the stage of the Buddha.
The Buddhist Way is the simple one. It is possible to be followed by each and every desirous. Without any mediator the one who is active and in a state of consciousness can follow it. An ordinary person, by following those who although in their early lives were also ordinary like him but later on the strength of their developed virtues they obtained Buddhahood, can develop his wisdom to the same highest level and thus he too can reach the top-the level of the Buddha.
Thus, Buddhism brought the philosophy, teaching and tradition out of the realm of hardness and also the state of isolation. Having the spirit of welfare of all nucleus and with a practical approach of equality of all, it broadened and strengthened the Indian Way time-to-time. Moreover, Buddhism made the unique Indian approach of universal acceptance popular amongst the masses. It was, in fact, a great work done by Buddhism not only for India but whole humanity.
Gautama Buddha
Gautama Buddha, born as Siddhartha, was the son of Suddhodana-the Ikshavaku Vanshiya king of Kapilvastu. He was born to his wife Mahamaya in the forest of Lumbini [now in Nepal] on the Poornima day in 563 B. C. For thousand of years the Ikshavakus were known for their virtues, character, great traditions and dedication to human values. According to mythological mentions the great glorious king Harishchandra and Maryadapurushottama Shri Rama were born in this very family line [Vansha]. Moreover, most of the Jain Tirthankaras were also from the Ikshavaku family line.
At the time of the birth of Siddhartha, social and political conditions at local and national level were very complicated. Common man was victim of atrocities and exploitation. In society there was a great lack of love and sympathy for one another. Competitions and jealousies in their worst form were there in human practices. Householders were under the grip of strives.
People in offices were busy in rivalries and obnoxious competitions. They were involved in making conspiracies against one another.
The religious field had become the centre of achieving selfish motives. Religious practices were made so discriminatory, isolated and arduous that their accomplishment was difficult for the common man. They had become cures for them. Furthermore, they had become the sources of causing increase in sorrows of particular classes of the society.
On the whole the Indian Way was made narrow. At that time, when it was very difficult to maintain peace, Siddhartha Gautama rose to the stature of the Buddha. He, as per the demand of time and space, re-established Ahimsa [non-violence], the supreme human value, in different fields of the society in the form of Karuna [compassion]. It was an unprecedented work of Gautama Buddha. It gave a unique dimension to the Buddhist tradition. Moreover, making the way of human equality simplest and easily accessible on the basis of Karuna he accorded a new life to the Indian Way. As the Indian Way was under the impact of darkness in those days, it was in need of a revolutionary like Gautama Buddha to save it and, side-by-side, to humanity.
Contribution towards the Indian Way and Humanity
Gautama Buddha's long memorable contribution towards the Indian Way and humanity can be well highlighted in three directions. On the basis of his intensive and highly philosophical research, in the centre of which were the four Arya Satya [noble truth], he put forward the reality of life before human world. This highly philosophical and intensive research was his first and great contribution and in the root of which was sorrow, cause of sorrow, cessation of sorrow and means of cessation of sorrow.
Gautama Buddha explained the tormented and distressed world that sorrow was the bitter truth of life; it was the supreme reality. Birth, disease, old age and death all are sorrows. Astonishment, state of depression and grief are sorrows. Contact with unloving is sorrow; separation from dear is sorrow; unfulfillment of desire and lust is sorrow. Desire for enjoyment, power and wealth and will to live are the causes of sorrow. Desire and lust give birth to the state of struggle, dispute, and conflict; they are the source of the state of strives. They lead a man towards the ocean of sorrows. Cessation from desire and lust is the way of becoming free from sorrows.
For cessation from desire and lust Gautama Buddha established the Eightfold Middle Way, the Ashtangik Marg [i.e. to come out of excessive harshness and extreme simpleness] and said, "This Eightfold Middle Way-Samyak Drishti, Samyak Vaak, Samyak Sankalpa, Samyak Karmanta, Samyak Aajivika, Samyak Vyayama [Prayatna], Samyak Smriti and Samyak Samadhi-proposed by me is the way of becoming free from desire and lust [cause of sorrow]; it is the only true way of cessation from sorrow."
Gautama Buddha called upon the man to root out the cause of sorrow carefully and with great sense on the basis of the Middle Way. And, thus, making the life free of constrains to lead it on the way to peace and prosperity. This, according to him is the prime goal of human life. He has clearly said that it cannot be justified if the one embarrassed by sorrows flees from his duties in life. Contrary to it, it is good if he in heroic manner traces the source of sorrows and makes him free of them
On the strength of his intensive philosophic research Gautama Buddha accorded unprecedented extension to the Indian Way. It was such an extension which itself proved to be the best introduction of the Indian Way; which is a milestone of this way. Buddhism touched the heights of the spiritual world in his own lifetime. It crossed territorial boundaries. After India it reached the parts of South, Southeast, Central, Middle-East, Fareast, and Northern Asia, and became the director of lives of lacs and crores of people. Simple, adaptable and practical teachings of Gautama Buddha became saviour of man on the one hand and Buddhist philosophy came to be known as one of the prominent branches of the spiritual field on the other. Until today it is established as such.
Secondly, Shakyamuni Gautama's call for equality in all spheres, including social and religious, and people's positive response to his call could pave the way for a social change in India. Without a doubt it was his second noteworthy and long memorable contribution. It deeply affected the lives of many people in the world which could be assessed from the number of people following Buddhism around the world. Today, after passing a long period of two thousand and five hundred years, more than five hundred million people follow Buddhist practices in their daily routines. They discarding division of society on the basis of class and caste and respecting democratic values are bringing forward their lifeboat.
Perhaps until today many of us are not aware of the fact that on several occasions Gautama Buddha comprehensively expressed his views on importance of a democratic set up. He firmly called upon the people to strengthen democratic values for their welfare. Although centuries before Gautama Buddha, in Vedic era, democratic institutions like Sabha, Samiti and Narishta were in existence, but the commitment shown by him towards democratic system of governance at the time when social and political conditions were complicated was not a small happening. It was definitely a great and historical event.
In this regard, for example, we can present here with pride an important conversation that took place between Gautama Buddha and Ananda, his most favourite disciple, about large scaled agreement and acceptance-the two important features of a democracy and which include exemplary views of Shakyamuni about public ethics and reverence for women and elders. Doing so, doubtlessly, we can well understand the role and importance of a democratic system for the welfare of the people.
According to that conversation:
"Accompanying by Ananda on the way Tathagata Gautama reached near Vaishali-the capital of the Vajji Union. Tathagata asked Ananda if it was the city of Vaishali."

"Yes Bhante!" Ananda replied.

"Ananda, have you heard that Vajjis of Vaishali organize public assemblies regularly?"

"Yes my Lord! I have heard so."

"Ananda! Whether all participate in those assemblies!"

"Yes Tathagata! I have heard this too."

"Ananda! As long as Vajjis organize full and uninterrupted assemblies, until then there should be a hope of their prosperity and not of their fall."

"Yes Bhante!"

"And, Ananda! As long as Vajjis coordinate with each other; [they] working in a state of harmony march forward on the way of development, and make [large scaled] agreement the basis of their progress, until then there should be a hope of their prosperity and not of their fall. [And] Ananda! As long as they do not indulge in such an act which is not pre-established [un-democratic]; as long as they reject nothing from that pre-established [democratic], until then there should be a hope of their prosperity and not of their fall."

"I also believe so, my Lord!"

"And, Oh Ananda! As long as Vajjis treat their elders with respect, they have faith in them, come forward to serve and look after them; as long as they respect their advice, and to honour their opinion consider to be a part of their duty, until then there should be a hope of their prosperity and not of their fall. …and, Oh Ananda! As long as they do not kidnap any girl or woman, they do not detain any of them forcefully, until then there should be a hope of their prosperity and not of their fall. Ananda! Know this also that as long as Vajjis give respect to holy places of the city and the nation, they have faith in them, extend appropriate support to them; as long as they care for pre-established instincts [Samskaras], and they do not cause hindrance in them, until then there should be a hope of their prosperity and not of their fall. I also say that as long as Vajjis give appropriate protection to Arhats [monks, sages], they defend them, serve and look after them, make arrangement for their safe and peaceful journey and stay, until then there should be a hope of their prosperity and not of their fall."
Thus, Gautama Buddha, through his conversation with Ananda clarified mainly seven things. Those things were important for the prosperity of democratic system at that time; also they were adaptable in prevailing conditions and demand of that time. They made the Indian Way firm on the one hand and on the other they saved humanity. If those things are applied according to the demand of current circumstances, they can definitely strengthen the system. Moreover, they can become welfaristic for the whole humanity. Furthermore, their relevance and importance can remain intact in future. The seven things include:
1. Sitting together and taking collective decision;
2. Implementation of decision by cooperation of all;
3. Honour of pre-established system and law;
4. Respect of elders and their advice [in this regards Gautama Buddha was of the opinion that elders were comparatively experienced and matured. Therefore, their advice would be beneficial. Moreover, juniors' respect of elders strengthens morality and ethics in life];
5. No use of force and pressure on girls and women [this clearly reflects Shakyamuni's wish for woman-man equality and progress of the former];
6. Protection of Dharma; and
7. Respect of monks, sages [which again indicates Buddha's desire for strengthening morality, ethics and dutifulness in life, and due reverence for others' views and faiths]
All the above seven things, as mentioned already, are the subject of purification as per the demand of time and space. They convey the message of healthy and pure public life, which is one of the fundamental features of the Indian Way and exemplary for the whole humanity.
Gautama Buddha brought all movable-immovable objects, views and creation within the scope of Law of Change. 'Purification as per the demand of time and space' is an indivisible part of this very Law. His call to accept this Law for all-round progress is, in fact, his third long memorable contribution towards the Indian Way and humanity.