Unlikely Guide for Holiday Shopping: Buddhist Teachings
The Buddhist Channel, Dec 11, 2008
NORTHAMPTON, Mass. (USA) -- Amid this economic slump, people are wondering how much they can afford to spend on loved ones during the upcoming holidays. The answer may not be in their checkbooks, but in Buddhist teachings, says one Smith College professor.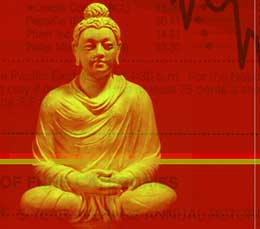 In his course "Happiness 101," Jamie Hubbard, professor of religion, used Buddhist teachings to explore the relationship between happiness and materialism. It is an apt discussion at this time of year with critics noting that the holidays have become overly commercialized.
"The Buddhist point-of-view has no problem with material possessions," says Hubbard, who co-taught "Happiness 101" with Philip Peake, professor of psychology. "Buddhism definitely thinks of material prosperity as an important component of happiness…there is a point at which you need a basic level of material ease and comfort."
Further, the very "spirit" of the holidays – giving and generosity – are high virtues in Buddhism, he adds.
But don't lunge for the checkbook yet.
Although Buddhism does not take issue with the acquisition of material goods, it does find fault with people's attachment to material goods, Hubbard continues. Greed and desire for material items brings suffering, according to Buddhist theory. While material possessions are viewed as a component of happiness, they are only a basic component.
"Even the spirit of Christmas can become perverted," says Hubbard. Although true happiness comes from compassion and generosity, according to Buddhism, commercialism driven by the fear that someone won't be "happy" unless she or he is showered with presents is misplaced.
"At the holiday season, what seems to most often bring people to tears is giving," said Hubbard. "Although generosity is important, you don't need to break the bank — the best gift is the gift that leads to the happiness of inner peace."
That route to happiness may appeal to non-Buddhists, too. As students within the team-taught "Happiness 101" learned, the Buddhist approach is one that is rapidly finding popularity in Western psychology.
Smith College educates women of promise for lives of distinction. One of the largest women's colleges in the United States, Smith enrolls 2,800 students from nearly every state and 62 other countries.