Making Buddha Smile
by Pranav Kulkarni, Express India, Feb 16, 2009
Mahesh Deokar's life is the quinesstial of what it takes to follow the teachings of Buddha
New Delhi, India -- Living life as per Buddha's teachings – Neti-Neti, meaning "not this-not this", that guide one to transcend beyond materialistic possessions and worldly sorrows to find permanent happiness, professor Mahesh Deokar's story is a true example of what it takes to follow the teachings word by word.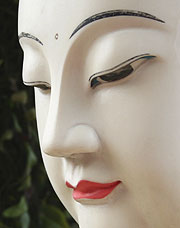 "Pain exists and one has to accept it to find the solution. Buddha says that pain lies in hurting someone and dependency is painful. Calling this as the only thing that Buddha said, will be an injustice to Buddha's philosophy that goes ahead to explain how one can concur the sorrows," says Deokar who got introduced to Buddha's philosophy, through his love for the language- Sanskrit. It was this philosophy that later inspired him to take up Pali, also known as Magadhi, the language that Buddhist philosophy is documented in.
"In the year 1992 after finishing my graduation from Mumbai University, I wanted to pursue my career in Sanskrit. Pune being the cultural center of Maharashtra, I shifted to Pune.
Pali was the subordinate subject that I chose during my MA in Sanskrit. While Sanskrit has been the language of scriptures, Pali is much more comprehendible," says Deokar, who during the student days, came in contact with the book- Milinda Panno that unveils Buddha's philosophy in a question- answer format. "It was due to the Buddhist philosophy that I decided to do a second MA with Pali as the main subject and Ardhamagadhi as the subordinate subject," smiles Deokar, who also decided to start his career as a professor of Pali language in University of Pune.
"While my teaching career began in 1996, I also got an opportunity to visit Kanzava University in Japan to study Tibetan grammar in the year 1999. After returning from Japan in the year 2000, I further decided to do PhD in Pali language," adds Deokar. He has also taught at various colleges and universities across India. Recalling one of the most memorable moments of his life, Deokar says, "In the year 2006, Pali, which was earlier affiliated to the Department of Sanskrit language, was declared an independent Department and I was given the honour of becoming the Head of Department (HOD), Pali Language."
Today, it has been three years that Deokar has been serving the language he loved as the HOD. Looking back at the years gone by also means recollecting some of the biggest challenges that life threw in front of him and Deokar says, "I lost my eyesight at the age of eight due to an unsuccessful operation. Life was not an easy walk especially given the fact that no books were available for us in Braille language for Sanskrit and Pali.
At these times, my professors and friends stood by me. They recorded the textbooks and made cassettes for me. I did my schooling, college and both MAs listening to the recorded books and lectures. There were times when some of my fellow professors objected to me being promoted as the head of Department or even a professor for that matter doubting my ability to communicate with the students, but today, I not only teach the language to students of the Department, but also explain the grammatical intricacies of the language for them on the black board."
Accepting what life offered to him, occupying his life with a better cause without exaggerating the challenges faced, Deokar, HOD, Pali Language, MA in Sanskrit and Pali, recipient of the Junior research fellowship by the University Grant Commission, respected scholar and faculty at countless Universities across India, has it all to make Buddha smile, Isn't it?