Manav samaj sewa sangh: The Human Brotherhood Ministry Fellowship
by Ven. Kobutsu Malone - osho, The Buddhist Channel, Mar 23, 2010
Sedgwick, Maine (USA) -- Venerable Bhante Shakya Bodhidhamma – zenji is an Indian Dalit born in Nagpur, India. Venerable Bodhidhamma trained at the Indosan Nihonji, Buddhagaya, India (Japanese multi-disciplinary Buddhist training temple) for two years formal Zen training and extensive Japanese language studies (conversational, technical and written) 1984 through 1986.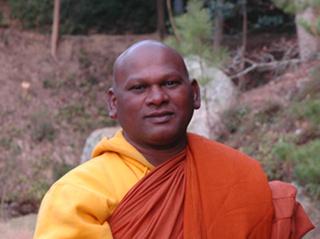 << Venerable Bodhidhamma, an Indian Dalit (untouchable), initiated his village-to-village program in South India
He continued his studies at Sogen-Ji Rinzai Zen Monastery, Okayama-Shi, Japan. Where he undertook formal, advanced studies in the Rinzai Sect lineage of Zen Buddhism.
He was temple certified as a Rinzai Zen disciple in 1986 under Zen Master Venerable Shodo Harada, Roshi, the Abbot of Sogen-Ji Monastery. Venerable Harada, Roshi is a direct Dharma Heir of Venerable Master Yamada Mumon, Roshi and the 83rd generation lineage holder in the Rinzai Zen Tradition in Japan.
In 1998, when Venerable Bodhidhamma initiated his village-to-village program, "Creating an Enlightened Human Society" in South India, he used to spend three days at a time in each village. Each day he called for daily chanting and zazen (Zen meditation) in the morning and in the evening. The majority of the villagers participating in these practices were young people joined by a few adult villagers. Daily, the Venerable was presented with villagers who shared their physical problems and related their experiences of fatigue, malaise, body aches, headaches and numerous additional maladies. Many villagers hold Buddhist monks in such high esteem that they expect them to cure disease in addition to upholding pious and deeply spiritual lives of compassionate generosity.
In one village were Venerable Bodhidhamma sojourned, he was taken to the house of a young man in his thirties who suffered great bodily pain manifesting in his hands being twisted, deformed and who's muscles had become hard like stone. The village community took Bhante to this man's house where he was bed-ridden and during this visit the young man looked at the Venerable and begged, "Please Bhanteji, save me!" The Venerable was moved to tears by this desperate plea and began to massage the man with techniques that the Venerable had acquired in his earlier days as a wrestler. He was able to provide some small comfort to the young man that was gratefully appreciated.
It was experiences like this that galvanized the idea in Bhante Bodhidhamma that he could somehow bring some relief to villagers who were suffering in pain without proper and readily available medical and body-work treatment. During his yearly retreats in Japan, the Venerable was from time to time, visited by an acupuncturist, Mr. Naoki Nogami. The monk related the story of his experiences during his village pilgrimages in India to Mr. Nogami who was very moved at hearing of such great need and consequently he generously offered to provide his services as medical charity to the poor Dalit communities of South India.
Mr. Nogami informed Bhante that he would need some time to arrange a trip to India as this involved making sure his regular patients had coverage by a competent associate in Japan to insure they were cared for properly while he was away in India.
Beginning in 2002, Venerable Bodhidhamma initiated a series of free medical camps in poor villages with the expert assistance of Mr. Nogami. They began their program by offering free care to anyone who applied, irrespective of their status; at the Indosan Sogenji Monastery in Bijapur, Karnataka State.
Bhante had also received care from another acupuncturist in Japan, Mrs. Naoko Oka. The extensive training program at Sogenji Monastery demands long periods of Zazen and many people as they age, develop back pain and find acupuncture an effective treatment. Bhante had a talk with Mrs. Oka regarding the possibility of her making a visit to India to aid the poor people who lack any sort of facilities or caregivers to provide relief for their infirmities. Mrs. Oka readily agreed to accompany Bhante to India and since her first visit she has generously and consistently come back for return visits. In addition, this fine lady has introduced other acupuncturists; Mr. Adachi Kenji, Miss Monoguchi, Miss. Yamaji, Mr. Terada and others to the program. They continue to this day to offer their services to the Dalit people free of charge to all comers.
For six years, from 2002 through 2008, the free medical camps were conducted at Indosan Sogenji Zen Monastery in Bijapur. In 2009, Venerable Bodhidhamma invited the acupuncture senseis to visit places further afield in areas where really poor people could benefit from their compassionate care. Initially, three seminars were held; in Bidar, Gulbarga and Bijapur City. Acupuncturist, Mr. Paul Johnson from the USA spent one month providing care for people in the program. Mr. Johnson was first introduced to Bhante by his friend, the American Zen practitioner and acupuncturist, Mrs. Wajun. Paul Johnson was able to provide free care for people in Nagpur Maharashtra State, Bijapur Karnataka State and in Vennivedu Village, Tamilnadu State.
Mrs. Jikun Sankya, also from America, a Zen practitioner and acupuncturist has traveled to India to take part in the free medical programs. During one program Mrs. Sankya and Mrs. Oka traveled from Bangalor to Bijapur by car, a distance of some 525km ( 327 miles ). It was their first experience traveling such a long distance by car.
Each August the medical camps are conducted for one-week duration. Typically, a hundred patients, including women, men and children are offered free treatment each day. Bhante and his volunteer care-givers do their level best to provide treatment for all who apply, however the demand is so great that on some days people have to return home without treatment. The Venerable has expressed his deep sadness over having to turn away people in need of care.
He always promises those who are forced to return home due to the huge demand for these now phenomenally popular programs that they will be treated on their next visit. Bhante is always appealing to medical practitioners in all fields to volunteer to take part in what is now officially named; The Manav Samaj Sewa Sangh – In English: The Human Brotherhood Ministry Fellowship.
The Sangh or Fellowship, plans to work in all fields of medicine to provide poor people with medical treatment and pain relief. There are many new projects on the drawing board and the Fellowship wishes to extend its begging bowl to all individual medical providers and organizations that are willing to offer compassionate care to the underprivileged masses of India.
The Sangh / Fellowship will do its best to provide supplies and facilities to doctors, nurses, acupuncturists, other healing professionals and body workers who step forward to selflessly offer their skills and services to this noble cause.
For more information, please visit: http://www.onedropindia.org/