Angel of the streets
By HARIATI AZIZAN, The star, May 9, 2010
When a stranger says 'You gave me food when I was homeless but now I don't need it anymore, I already have a job', the satisfaction in having helped someone is reward enough, shares philanthropist Ruby Khong
Petaling Jaya, Malaysia -- ON speaking to Kechara Soup Kitchen (KSK) president Ruby Khong, one may be disappointed to learn the truth – she neither ran away from home nor lived on the streets as a teenager.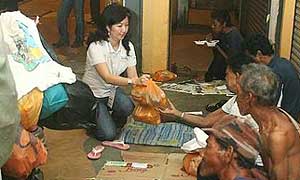 << Social service: Khong distributing food to the homeless in Chow Kit, Kuala Lumpur. — Pix by RICKY LAI / The Star
Such stuff certainly made interesting reading when she was listed as one of Forbes Asia's Hero of Philanthropy recently for her work with the homeless and poor.
"I'm sorry, I was never homeless. It was a misreporting – the interview was done over the phone and I think the reporter must have misheard me. I actually come from a regular middle-class family in Penang," she says ruefully, before adding with a laugh, "Am I less interesting now?"
After talking to her, however, you'd soon realise that it does not matter; Khong is still as inspiring as described.
This mother of three is the real thing.
Her passion to help the homeless and her genuine concern for their welfare shines through as she talks about the soup kitchen.
The China Overseas Petroleum Corp regional director is one of four Malaysian corporate figures named in Forbes Asia's Heroes of Philantrophy 2010 list which is in its third year of running and recognises four philanthropists from each country in the region for their on-going work in funding charitable projects locally.
Khong joins a list of 48 influential Asians that includes Malaysian multimedia mogul Tan Sri T. Ananda Krishnan, Hong Kong movie star Jackie Chan, Chinese basketballer Yao Ming and former Indonesian tobacco tycoon Putera Sampoerna.
Khong is being recognised for her work with KSK, which was set up in 2006 not only to feed the homeless and the urban poor but also to help them rebuild their lives.
"I first found out about my selection through an SMS, so I thought that it was an April Fool's joke!" she shares.
And as Khong explains, the homeless experience that inspired the soup kitchen – which is affiliated to Buddhist organisation Kechara House – is that of its spiritual leader His Eminence Tsem Tulku Rinpoche.
She tells that when he was a child, Tsem Rinpoche was adopted by an American family, but after years of physical and emotional abuse, he ran away from his foster home when he was 15.
"He made a harrowing journey across the United States, from New Jersey to Los Angeles. Alone and penniless, he had to battle the cold and sleep under the bridge."
He survived without food and shelter on the kindness of a few people he met on the streets, she adds, and since then, he is resolved to help the needy.
"Four years ago, after noticing many homeless people in Penang and Kuala Lumpur, he suggested that some of us, his students, do something more worthwhile than just going out and having fun. He suggested that we get together and feed the homeless," she shares.
So, on his advice, Khong and a few friends bought about 20 packs of food from the mamak shop and drove around KL to find the homeless.
She admits that it was difficult at first.
"The first challenge is to give up our weekend," she shares. "I also have to be honest. At first, I found it really depressing. The first time I went out to distribute food to the homeless, I went to the Pudu market area. It stank and had a lot of rats. I was appalled and could not understand how anyone could live in such conditions but I then realised that they have no choice.
"Many are caught in the situation and for most, the chances of getting out are slim or nought."
She admits that the first time she came face to face with a homeless person she was horror-struck.
"I understood their predicament but I am ashamed to say that I cringed because I was taken aback by how they smelt and looked. Many were so grateful that they wanted to shake my hands or hug me, and I really did not know how to handle it then."
From week to week, she says, they soon got used to it and slowly, as more people joined them and donated money, they were able to extend their route and expand their operation.
"From 20 packs, we are now distributing around 813 packs of food. We are never short of volunteers; we get about 40 volunteers every week."
As the group grew, she adds, they began to realise that they had to be more structured in order to be more efficient. A working core committee of volunteers was thus formed to organise the volunteers, raise funds and pack the food, among others.
"We came up with a form to register our clients to make sure that they are really deserving. We are dealing with donated funds so we have to ensure that they are going to the right people," says Khong.
KSK starts at 9.30pm every weekend with the packing of the food to be distributed, which includes a pack of hot cooked food and some dry food like bread and biscuits to help sustain the homeless for the rest of the week.
After a short briefing at around 10.30pm, the volunteers are divided into small groups and assigned to specific areas.
"We have a very good team of people now, so we are able to break into different groups and cover the different areas of KL from Puchong to PJ down to Chow Kit and Sentul," she says.
"In places where people already know us, they wait for us every weekend."
KSK also provides assistance to the hardcore poor and they have about 1,200 registered with them. The visits to the homes of the hardcore poor are done during the day.
Last year, KSK acquired a two-storey shoplot in Imbi which is being renovated into a halfway house for street dwellers.
Despite its Buddhist affiliation, the KSK does not discriminate against race, religion and culture.
"That is why we always ensure all our food are halal and vegetarian," she says.
This experience has taught her to appre­ciate what she has been blessed with.
"I am lucky, I did not have to face any hardship when I was growing up. Then I became a socialite – I had a lot but nothing was ever enough – so this has helped me see what is really important in life.
"You might say that my personal development is based on these people's suffering, but to me it is a privilege that I can be of service to them; that I can be a caregiver."
Khong shares that her spiritual awakening began in 1994, when she was at a crossroads in her life.
"Although I come from a very spiritual family, I had always felt something was missing. When I had various personal issues in the mid-1990s, I decided to follow my friends on a pilgrimage to India. There I met the Rinpoche and we clicked," she says.
Her spiritual teacher's advice stuck with her.
"He told me to change from within. Learn not to look at the outside but learn to look deeper within to see what the real issue is.
"And he told me, 'You like to dress up and socialise, so you shouldn't change that. Continue your lifestyle but do it with deeper meaning, bring spirituality into all aspects of your life.' That advice has helped me find balance in life," says Khong.
There were friends who thought that she had gone crazy or abandoned them after her "transformation" but they later realised that the new her is essentially still the same as the old her, she jokes.
Still, she concedes, when she tells people about KSK, many are still doubtful about the number of homeless people and urban poor in KL.
"Sometimes, we are so focused on our own lives and our own destination when we are on the road that we don't notice those on the street corners. But I guess when you really open your eyes, you start seeing things clearly."
KSK does not just feed the homeless.
"We also provide medical services but our main goal is to get them off the street and help them get back into then mainstream society. We try to help them with job placement.
"There is a minority who are happy to be spoon-fed and not help themselves but there are many who really want to get off the streets, find a job and build a new life," she says.
Hence, shares Khong, one of the best moments with KSK for her is to be approached by a stranger on the street who said, "Remember me? You gave me food when I was homeless but now I don't need it anymore, I already have a job and can take care of myself."
"You then know that you have been of benefit to at least one person in his or her time of crisis."
-----------------
To donate or volunteer, contact KSK project director Justin Cheah at 012-203 2135 or KSK's office at 03-7880 0782. For more details log on to www.kechara.com/ksk.