A Malaysian's initiative to aid the rehabilitation of Buddha Sasana in Cambodia
The Buddhist Channel, May 28, 2010
Petaling Jaya, Malaysia -- The people of Cambodia or Khmers have been Buddhists since the13th century and was once part of a great empire. However, fate took a twist in modern times.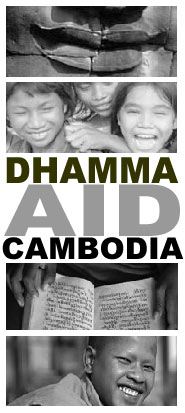 The Khmers suffered terribly during the civil war between the years 1970 to 1975 and in the years thereafter. When the communist Khmer Rouge came to power in 1975, its genocidal programs led to the death of between 1 to 3 million people out of a population of 7.3 million.
With the defeat of the Khmer Rouge in 1979, the Cambodian people vigorously rebuilt their religious infrastructure and embarked on the construction of monasteries. However, because of the severe lack of teachers and resources, religious education fell far behind. It is estimated that only about 20% of the sangha receive some formal education.
If the knowledge of the members of the sangha is weak, then the lay-people who look to the monks for guidance and instruction are in an even worse position. Already suffering greatly from poverty, and the residual trauma of war, their spirit is further weakened by superstition and ignorance.
Not surprisingly, well funded missionaries of various stripes have descended on the country. While some have noble and genuine intentions, a significant number merely wish to capitalise on the vulnerability of the populace by introducing beliefs that further weaken and divide the people and erode confidence in their culture.
The people of Cambodia have suffered enough.
As they leap into the modern world while recovering from their recent trauma, there is a great need for them to reclaim their religious heritage, be re-educated in the Dhamma and to regain their spirit and self-confidence.
Dhamma Aid Cambodia (DAC), an initiative led by Lee Yu Ban, is a heart-felt response to the situation described above. While the Cambodians have difficulty in finding the educational resources to rebuild their religion, Buddhists here and in many countries often have a surplus.
DAC seeks to address this disparity by creating the medium for Buddhists who seek a wiser and effective way to donate funds in support of the Buddha Sasana in Cambodia.
Yu Ban recently gave the Buddhist Channel an exclusive interview on the motivation and vision behind DAC. The interview as follows:
Your motivation to start DAC.
I first made a tourist trip to Siem Reap in 2006. The ancient temples were wonderful, but I was equally struck by the desperate situation of the country. Yet, in this difficult situation the Cambodian people showed tremendous courage and a gentleness of spirit that impressed me. I noticed that there were many western run NGOs working in Cambodia addressing various issues such as poverty, street children, human rights etc. However, there were hardly any NGOs helping Cambodians in their efforts to re-establish their culture and religion. The locals poured a lot of resources into building temples and such, but even the monks I spoke to there admitted that they lacked educational resources as the Khmer Rouge has destroyed the infrastructure of sangha and Buddhist education and eliminated the elderly monks.
In addition, several foreign missionary groups have established themselves. Their well funded organisations, fronted by schools and orphanages have been very aggressive, taking advantage of the liberty given by the government which desires whatever little care and education they bring. But unfortunately, their primary agendas of evangelism have damaged the local culture and continues to create conflict in families and society.
Please explain the core mission and goals of DAC.
DAC attempts to assist Cambodians in their efforts to re-establish their religion primarily through the support of educational efforts. While humanitarian aid is certainly worthy and helps relieve the suffering of individuals, I believe it is education; cultural and religious renewal that is of the greatest benefit to the Cambodian people as a whole. Every Dhamma book put into the hands of an individual not only changes him but also affects those around him, not for a day but into the future. The Sangha-raja of Phnom Penh said to me when I visited him in 2007 that the Cambodians needed many things but it is the Dhamma that will help them most. This echoes the saying by the Buddha that the gift of Dhamma exceeds all other gifts.
How long has it been sustained? How do you get your funding?
Buddhists in Malaysia and other Asian countries have the resources to help, but many Buddhists are unaware of the great need of Buddhists in other parts of Asia. So they tend to give merely to make merit, without thinking how their dana can have strategic value and produce greater good. I'm hoping to change that a little. Since 2006, DAC has been supported fully by dana from friends, relatives and the public as well as generous support from the Brickfields vihara. I'm happy to say that till date, we have had no fund-raising, we haven't sold a single item. Every cent that went to DAC was motivated purely by the generosity of people who were spurred by compassion and awareness of the needs of others. On the receiving end, the dana has been greatly appreciated. For example, whenever we print Dhamma books, the Cambodian monks and their helpers will take the books and personally distribute them at schools, colleges or to various NGOs. Also, monks from various wats will travel to collect free books for distribution to local people.
Any challenges / difficulties faced over the years?
DAC has operated by leveraging off the technological power of the Internet. Books are selected, sent and translated by Cambodians in various parts of the world. Also funds are raised and sent through the Net. So it has been quite efficient. The challenges has been to find educated, idealistic Cambodians, monks or laymen who are prepared and have the capabilities to cooperate with DAC on this. There are not many. Funding, although adequate for our modest projects is always a challenge. With greater funding, more projects can be launched. Malaysian Buddhists are generous - the challenge is to convince them to donate wisely.
Who are the primary beneficiaries? Where are they located?
We try to be strategic in the projects we support. The beneficiaries are the Cambodian people. In particular we have two projects, scholarships for monks studying at the monastic university and Dhamma books for free distribution. Both contributes to the overall increase of Dhamma knowledge in the local population and will have long term effects. To be even more effective, we try to distribute our books to students in secondary schools and Colleges, as well as to community leaders, monks and teachers. Our books have been distributed throughout Cambodia, but mostly in the towns where literacy and educational standards are higher.
What milestones have been achieved thus far?
We are not aiming for anything. As long as there are funds we will continue to print books for successive generations. We have printed about 50,000 books of various titles for free distribution and contributed towards monastic scholarships since 2007. There have been other projects. For example, this year, we are putting a roof on a monastery for teaching nuns, in Battambang. The Doun Chees or nuns are sometimes sidelined in receiving financial support for their livelihood. We have also given laptops to monks working in NGOs, one of whom records his Dhamma talks for transmission over the radio.
Ideas of expansion. What does the future hold?
What we have done is a tiny drop compared to the great need in Cambodia. Right now, I do what I can with the time and resources at hand. But what DAC has done can be easily increased or replicated throughout Asia. Just think of the Buddhists in Bangladesh, Nepal, Laos and of course, India. I am toying with the idea of incorporating DAC into a legally constituted organisation, perhaps with a larger vision to address these countries - something like Dhamma Aid Asia. With enough local resources, both in terms of funds and manpower, this can be a reality.