Balancing happiness and money a key for Small Medium Enterprises
The Bangkok Post, Sept 8, 2010
Bangkok, Thailand -- Keeping staff and business partners happy is among the keys to help small and medium-sized businesses sustain their growth, according to executives.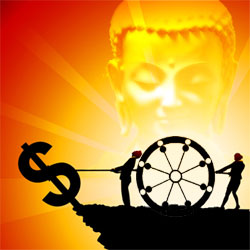 Wacharamongkon Benjathanachat, founder and president of Bathroom Design, said his company incorporated corporate governance (CG) in its staff management system as a way to cultivate commitment among employees toward the company.
"Business cannot grow solely out of money," Mr Wacharamongkon said at a seminar held yesterday by the Stock Exchange of Thailand and Kasikornbank.
There needs to be a balance between business growth and social responsibility, including gaining trust from stakeholders.
"Treat your employees as your own siblings and make them feel like they also own the company. They'll be willing to look after your company for you," he said.
For example, Bathroom Design financially supports its employees in advancing their education as well as looking after family members of deceased staff.
"We use KPI (key performance indicators) to measure our employees' [virtue or integrity] rather than their performance," he said. "We focus on rewarding their honesty, endurance and sharing."
The same principle applies to how organisations treat customers, business partners or suppliers.
"Provide quality products and services as if you were giving them to your parents and treat partners like your own kin, such as working together with suppliers to improve product innovations," said Mr Wacharamongkon.
Discussing the success in handing over a family business for SMEs, Unyarat Pornprakit, the fourth-generation executive of the MAI-listed jewellery firm Jubilee Enterprise Plc, said one of the keys is to win employees' hearts.
"You need to work as a team with the staff and share both happiness and sadness. Always be there to help solve problems from the start to the end," said Ms Unyarat.
Mr Wacharamongkon said that sufficiency was important for business, such as not targeting growing too quickly by taking out too many loans. His company has applied Buddhism in business management. "You should feel content in every process of business. Don't focus too much on the bottom line," he said.