Bhikkhuni Ordination in Los Angeles
By Dr. Stephen Long, Asian Tribune, Oct 13, 2010
Los Angeles, CA (USA) -- During the past four decades many Buddhist monks from all of the Theravadan countries of Asia have come to the West to propagate Buddhism, while at the same time to serve their ethnic communities by providing religious services, spiritual counseling, and Buddhist training.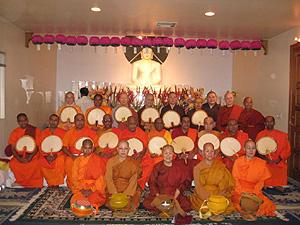 It has been a very rare occasion for a male westerner to ordain as a Theravada monk; and it has been rarer still for a female to ordain as a Theravada nun. The order of Buddhist Nuns, the Bhikkhuni Order, was established by the Buddha himself in the fifth year following his enlightenment, but for a variety of unpleasant historical reasons, it had been extinct since 1017 C.E., which is over one thousand years.
It was only in 1988 that it was resuscitated, thanks to a handful of dedicated bhikkhus from Sri Lanka who faced formidable opposition from factions of conservative monks in several of those Asian countries where the Order had also ceased to exist.
This past Sunday, October 10, 2010, an historical international ordination of bhikkhunis, Buddhist nuns, took place at Dharma Vijaya Buddhist Vihara in Los Angeles under the aegis of Ven. Walpola Piyananda Nayake Maha Thera. This was the first "higher ordination" of Buddhist nuns in Southern California.
Ven. Piyananda is the Abbot of Dharma Vijaya, the Chief Sangha Nayake of America, and President of the Sri Lankan Sangha Council of America & Canada. For over twenty-five years Ven. Piyananda has made it one of his life's missions to re-establish the Theravada Bhikkhuni Order, having ordained the first samaneri, or novice nun, in Los Angeles in 1988. Thanks to his efforts it is now possible for females to obtain higher ordination in America so they can devote their lives to the Sasana while pursuing their spiritual perfection.
Three ceremonies were held on the same day. The first was for a Canadian-born woman, Brenda Batke-Hirschmann, who became an Anagarika by taking Eight Precepts; the second was for two American-born Anagarikas who received ordination as Samaneris; and the third was for five Samaneris who took full Upasampada, or higher ordination, as Bhikkhunis. The new Samaneris are Santussika and Dhammapali; the new Bhikkhunis are Lakshapathiye Samadhi (born in Sri Lanka), Cariyapanna, Susila, Sammasati (all three born in Vietnam), and Uttamanyana (born in Myanmar).
Eleven monks from the greater Los Angeles area participated in the ordinations: ten from Sri Lanka and one from Bangladesh. The monks of Dharma Vijaya worked tirelessly to make the historical occasion a success; these are Ven. Dr. Udagamma Sumangala Maha Thera, Ven. Muruthamure Pannaloka Maha Thera (current president of the Buddhist Sangha Council of Southern California), Ven. Gajanayakagama Kassapa Thera, and Ven. Kalabulalande Dhamajothi Thera. Ten bhikkhunis oversaw the ordinations including one from Florida, two from Washington State, and one from Minnesota; these bhikkhunis were American, Sri Lankan, Burmese, Chinese, Vietnamese, and Korean.