Tibetan monks share culture, wisdom with Brookdale students in Middletown
by JENNIFER BRADSHAW, The Asbury Park Press, Mar. 31, 2011
Middletown, Connecticut (USA) -- According to Buddhist teachings, ignorance is a powerful negative emotion and one that will hinder wisdom and problem solving.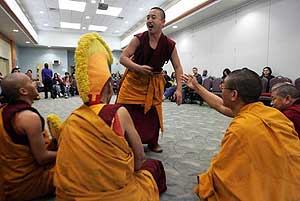 "The root cause of all our suffering is ignorance," said monk Tenpa Phuntsok, translating for monk Geshe Lharamta Lobsang Dhondup. "If we try to reduce or dispel this ignorance from our mind . . . then there will be no more pain or suffering in our lives."
On Wednesday, a group of monks from the Drepung Gomang Monastery spent a day at Brookdale Community College to visit with students, demonstrate cultural dance and Buddhist debate, and talk about meditation and karma.
Originally built in Tibet and driven out by the Chinese Communist Party, the monastery is now located in a southeast region of India.
According to the monastery website, approximately 2,000 monks currently live there.
Phuntsok, a monk who gave most of the presentation in English, said the tour has three objectives: To share what they have learned at the monastery, to share their culture with other cultures, and raise some money for the monastery.
The monks hope to spread Buddhist teachings and the ideas of wisdom, compassion and peace as a way to help solve the problems of the world, he said.
"(We have) a big hope that we can work some contribution from the Buddhist way of practice," he said.
To raise that money, the group also brought a colorful array of jewelry, clothing, prayer flags and Tibetan instruments to sell, including "singing bowls," which are often used in meditation practices.
"It is said that those who are "fortunate' can hear the teachings of the Buddha in the ringing of the bowls," Phuntsok said.
The group has been in the U.S. for six months, and will stay for another six, he said.