Thousands Flock to Dalai Lama's Ancient Buddhist Ritual in DC
by SARAH BURKE, The Associated Press, July 5, 2011
Washington, D.C., USA -- The Dalai Lama will celebrate his 76th birthday today in downtown Washington, D.C., as thousands gather to take part in an ancient Buddhist ritual and a call for world peace. Meanwhile, international political observers wait to see if the exiled Tibetan leader will be granted a meeting with President Obama, just a few blocks away.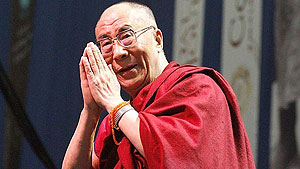 It will be the Nobel Peace Prize winner's first official event since stepping down as Tibet's exiled political leader in March and his first since his February 2010 visit to Washington that caused tension in U.S.-Chinese relations.
The grandson and son of Gandhi and Martin Luther King Jr. -- two international icons of nonviolence -- and tens of thousands of followers from around the world are expected to attend the ceremonies at Washington's major sports arena and pay their respects to the Dalai Lama's enduring message of peace.
But even while the majority of his time will be spent conducting religious ceremonies, the Dalai Lama will also have several political meetings in Washington, advocating for the religious and civil rights of his Tibetan Buddhist followers who fled their homeland after a failed 1959 uprising against the Chinese government.
Thousands of exiled Tibetans now live in Nepal, where today Nepalese authorities prevented Tibetans from celebrating the Dalai Lama's birthday over concerns the gatherings would turn anti-Chinese. Hundreds of riot police reportedly blocked Tibetans, including many monks and nuns, from entering a school in Kathmandu where celebrations were planned.
The Dalai Lama's last visit to Washington in February 2010 caused a diplomatic spat between the U.S. and China when he met with President Obama at the White House. The Chinese argue that the Dalai Lama is a dangerous "separatist" who wishes to sever Tibet from China.
The Obama administration has not said whether the president or Secretary of State Hillary Clinton will meet with the Dalai Lama on this visit – although he is expected to meet with a bi-partisan group of lawmakers on Capitol Hill later this week.
Some members of the House Foreign Affairs Committee, chaired by Rep. Ileana Ros-Lehtinen, R-Fla., were last week urging the Obama administration to "pay the proper respect that this leader deserves," by meeting with the Dalai Lama at the White House and risking Chinese discomfort.
Ancient Spiritual Tradition
Over the next 10 days, the Dalai Lama will administer an ancient spiritual teaching, known to Tibetan Buddhists as the "kalachakra," – a practice that incorporates visualization, recitation and meditation to achieve a pure state of mind.
"From the Tibetan perspective," Matteo Pistono, a Tibetan scholar, explained, "there could not be anything more auspicious than being given the kalachakra by the Dalai Lama."
The ceremonies will primarily take place at Washington's Verizon Center – normally a home for professional basketball, hockey and rock concerts.
It may sound like an unusual arena for an event so profound for Tibetan Buddhists, but "this is exactly, precisely where the kalachakra should be given," says Pistono.
"It is believed that the stronger the negative forces are, when the tantric practices are applied within that context, they'll be of even greater benefit."
Also as part of the ritual, a "sand mandala" – an intricate, two-dimensional depiction of the kalachakra - will be constructed out of multi-colored sand to represent the qualities of compassion and wisdom. There will also be a traditional Tibetan parade, and a public address on world peace by the Dalai Lama in front of the Capitol building.
This visit comes at a unique time in Tibet's political history. Earlier this year, the Dalai Lama surprised many of his followers when he stepped down from his role in the Tibetan government-in-exile. But despite his diminished political role, the Dalai Lama is as much the Tibetan national leader as he ever was.
"It is certainly not a typical visit," said Mary Beth Markey, president of the International Campaign for Tibet, a D.C.-based political advocacy group that works closely with the Dalai Lama. "But if he meets with the President of the United States, is that a political meeting? I would say yes."
Politics aside, this week marks a very sacred event for Tibetans and many Buddhists around the world will be traveling to D.C. to attend in person.
Markey told ABC News of an elderly Tibetan woman – a nomad - who has travelled all the way to Washington from Tibet to take the kalachakra from the Dalai Lama in the Verizon Center this week.
Until now, this woman has never left Tibet nor had the chance to see or hear her spiritual leader. "He is here giving a very important religious teaching," says Markey. "Buddhists from all over the world are coming. It is absolutely impossible to do this in Tibet. That is a political message and it shouldn't be lost."
The Associated Press contributed to this report.