Buddhist temple causes stir
By Martine Powers, The Boston Globe Staff, October 5, 2011
LOWELL, MA (USA) -- For Khon Sao, 77, the little plot of woods behind Pawtucket Boulevard is the closest he can get to God.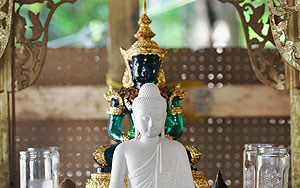 << Moeung Mao lit joss sticks as a prayer offering last month in the Buddhists temporary temple. Below, a statue of Gautama Buddha, whose reign is to last until 2555, according to the monks at the temple. The temple has run into criticism from city officials over violations of sanitary and safety codes. (PHOTOS BY WENDY MAEDA/GLOBE STAFF)
An enclosure of looming, coiled trees. Breeze that murmurs through the leaves. Deer and geese and squirrels and wild turkeys.
"This forest, it is peaceful for monks, and for us to spread love and kindness,'' Sao said in Khmer, a Cambodian language, through a friend. One of the most prominent Buddhist monks in America, Sao's head is shaved, and he wears only socks and burnt orange robes. "There is a lot of nature here. According to Buddha, enlightenment comes from nature.''
But the local chapter of the Community of Khmer Buddhist Monks, which had hoped to create a small slice of Cambodia on the 12-acre plot of wooded land, has run into trouble with city planners who have rebuked the group for failing to meet basic building and sanitation codes for the property, at one point threatening to order the property vacated.
Even more, some neighbors have complained the temple will bring noise to the area and may worsen springtime flooding.
And while Lowell is a city known for its diversity - over 10 percent of the city's population is ethnically Cambodian, according to the 2000 US Census - the process of building a relationship between a budding Buddhist temple and a historic, mostly-white Lowell neighborhood has proven delicate.
"It's like, if we criticize them and say that their behavior is harmful to our neighborhood, we're somehow infringing on their rights as a religious group,'' said Deb Forgione, chairwoman of the Pawtucketville Citizens Council. "This has nothing to do with religion, absolutely nothing.''
Members of the Cambodian Buddhist community insist that they only want to be quiet, peaceful neighbors.
"We're trying to blend in, and we're trying to make a difference,'' said former Lowell City Council member Rithy Uong, who is helping with the construction at the site. He was the first Cambodian-American to be elected to a city council in the United States.
"We're trying to work together with the city and the neighborhood,'' he said.
While there are several Buddhist temples in the region, Uong said, all of those places of worship are converted homes or office buildings - brick buildings with gable roofs and chain-link fences on residential streets.
Local members of the Cambodian community said they wanted a new temple, some place with the look and feel of Cambodia, where they imagine worshipping in the famed temples of Angkor Wat.
Maya Men, a spokeswoman for the monks, said the group put a $50,000 down payment on the property on Aug. 1. Then they moved in, clearing brush and bushes from a swath of land and erecting a large tent. They displayed a mural of Buddha and his disciples.