Franklin Buddhist monastery seeks expansion approval
By Walter O'Brien, NJ.com, December 16, 2012
FRANKLIN, NJ (USA) -- A Buddhist monastery has applied to the township for permission to expand its buildings to bring its worshippers more programs.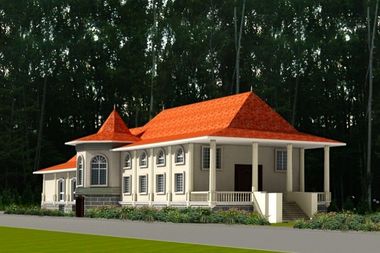 << Artist's conception of the proposed new temple. NJ Buddhist Vihara
The New Jersey Buddhist Vihara and Meditation Center at 4299 Route 27 is scheduled at 7:30 p.m. on Jan. 17 to come before the Franklin Township Zoning Board of Adjustment at 475 DeMott Lane in Somerset to present its application for a new three-story worship building on its property. The public hearing was originally scheduled for Dec. 6.
Vihara is a Sanskrit term for an early type of Buddhist monastery which originally meant "a secluded place in which to walk", constructed to shelter monks during the rainy season, according to Encyclopædia Britannica.
The center, established in 2003 on almost 10 acres of wooded land, features a 30-foot-tall statue of the Buddha which is the largest in the Western hemisphere, according to the center's website.
Since the unveiling of the statue in 2009, the center has become a landmark attracting a steady stream of visitors throughout the year for the the practice of Buddhism & meditation, according to the center.
The new 11,000 square-foot temple, which will eventually replace the existing 1,500-square-foot house, will house a library, meditation room, areas for community gatherings, a school for children and living facilities for clergy, as well as a meditation trail through the woods.
The estimated project costs for plans, infrastructure, building and landscaping is expected to reach approximately $2.3 million, all of which is to be raised by donations.
The Vihara has met on several occasions with township engineering committee, and first applied to the board for the proposed expansion in early September, Carol Kuehn, secretary for the fundraising committee, said.
Once the Vihara's application is approved by the township, groundbreaking should take place within a few months, with initial construction focusing on the new building and parking lot expansion, Kuehn said. The goal is to complete the project within a year but the speed of construction depends on the results of fundraising efforts, she said.
Kuehn said that once construction is completed, the Vihara will be able to expand its offerings of mediation, social, educational and religious programs to the community and to open its current offerings to a greater number of people. She said that the Vihara's neighbors and the community have been very supportive of their plans.
"The Vihara's mission is to offer guidance and moral support to the community and members," Kuehn said. "As a member of the Franklin Township Interfaith Council, the Vihara would also be able to host interfaith programs."