New direction for Buddhist programs at Yale
By Cynthia Hua, Yale Daily News, March 1, 2013
To support the Yale Buddhist community after severing relations with Indigo Blue, the Chaplain's Office is offering activities such as Dharma talks in Harkness Tower.
New York, USA -- Four months after the University ended its nine-year relationship with former Buddhist Chaplain Bruce Blair '81 and Indigo Blue, the nonprofit center for Buddhist life at Yale, the Chaplain's Office has unveiled a series of new religious activities and acquired two interim staff advisers for the University's Buddhist community.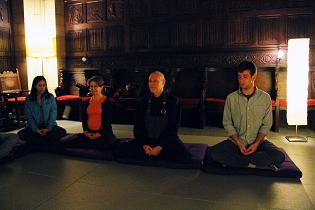 << Photo by Vivienne Zhang.
In January, the University hired Steve Kanji Ruhl and Anne Dutton as interim Buddhist advisers, and the Buddhist Shrine in Harkness Chapel was reopened last December. The Buddhist activities currently offered this semester include Dharma talks twice per month as well as a weekly formal practice with open discussion, said Nathaniel DeLuca, the Chaplain's Office program coordinator. Students interviewed who previously attended Indigo Blue programs said they have not attended the new programs hosted by the Chaplain's Office.
University Chaplain Sharon Kugler said her office hopes to grow their current Buddhist program before looking into hiring a new full-time Buddhist chaplain.
"Currently we are focusing on nurturing the program that we have and are working with local and regional Buddhist communities to identify appropriate next steps to form partnerships for future endeavors," Kugler said.
The events hosted by the Chaplain's Office are comparable to Buddhist programs at other universities and services offered for other religious communities at Yale, DeLuca said. The Chaplain's Office has been working "slowly but deliberately" to create a community to support displaced members of the Buddhist community after the University cut ties with Indigo Blue last fall, he said.
Kugler said she sought advice from prominent members of the national Buddhist community during the hiring process, adding that Ruhl and Dutton were chosen because their knowledge of multiple forms of Buddhist ritual is essential in a diverse college setting. The two interim fellows hold advanced degrees in Buddhist studies — Ruhl graduated from the Harvard Divinity School, and both are experienced in teaching Buddhism, she said. Dutton has been involved since the fall in efforts to "rebuild" the Buddhist program and is familiar with attendees already, Kugler added.
"I don't have specific goals, but I do want to welcome as many Buddhist and non-Buddhist students as possible and members of Yale's nonstudent community as well, into dynamic, meaningful conversations exploring the Dharma and how it manifests in our lives," Ruhl said. "I want to help create a warm, inviting atmosphere for doing that."
Dutton said she hopes to provide a space for students who wish to learn more about the Buddhist faith as well as those who use Buddhist practices to help with stress and other challenges. The new activities focus on practical applications of Buddhist teachings that are useful for students in everyday life, she added.
Kugler said she has received positive feedback from students and particularly from attendees of the Dharma talks, which are teachings on the Buddhist faith. Roughly 10 students and community members attended the second Dharma talk on Feb. 18, filling all available seats at the Buddhist chapel, Ruhl said. Students have been open to sharing personal experiences and have shown sincere interest in discussions following the Dharma talks, he added.
Hung Pham '15, a prior attendee of Indigo Blue events and former representative of the Buddhist community on the Inter-Religious Leadership Council, said the new programs are centered on Zen Buddhism and do not appeal to students who appreciated the more diverse, pan-Buddhism approach of Blair.
"I'm sure it's not anyone's fault — it just so happens that the new Buddhist leaders on campus are of the Zen school," he said. "The Chaplain's Office is refusing to hire a new full-time Buddhist chaplain who would appeal to multidimensional Buddhism."
But Kugler said both advisers are educated on the diverse range of Buddhist thought, and that no students have approached her office with complaints recently.
Pham said separate groups of students attend the Chaplain's Office's Buddhist programs than those that attend the Indigo Blue programs still offered at Blair's home on Mansfield Street. The two options have not created a cohesive community environment, Pham said.
Ruhl previously co-chaired the Harvard Buddhist Community.