Monk fights UK university over inheritance
The Buddhist Channel, March 30, 2013
Sedgwick, Maine (USA) -- A Zen Buddhist priest, longtime social justice advocate and author of a leading manual on prison chaplaincy, has come to legal blows with the University of Nottingham, claiming in a U.S. court that the U.K. institution wrongfully used duress to convince his father to bequeath the entirety of a $3 million estate to the school while leaving the priest and his two disabled children with $5,000.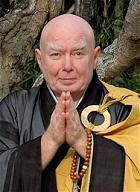 The Rev. Kobutsu Malone, whose prison and death row chaplaincy has led him to numerous states, asserts in the action in the New Jersey court, that his father, Kevin B. Malone, a Roman Catholic who never attended The University of Nottingham, was moved to cut off his only child and grandchildren only after the priest wrote a letter detailing sexual, physical and emotional abuse he and his classmates suffered while enrolled as students at New Jersey's Bergen Catholic High School in the 1960's.
"The Execution of the Holy Spirit" (which can be viewed at http://www.bergencatholicabuse.com) was published in 2002, and was later posted to a blog on the Internet. Several dozen other former Bergen Catholic students, now men in their sixties, some prominent in the local community, have added their own first-person accounts of enduring sexual abuse at Bergen Catholic similar to that recounted by the Rev. Malone.
Unbenownst to the Rev. Malone until after his father's death in 2011, Kevin B. Malone removed the Rev. Malone and his two sons from his Will 32 days after "The Execution of the Holy Spirit" was published.
http://www.ethelandkevinmalone.com/
In documents filed with the court, the Rev. Malone has argued that his father disregarded his deceased wife, Ethel's, wishes that their estate should be divided between their son and two grandchildren. A pair of reciprocal wills made by the Rev. Malone's parents in 1997, granted the remainder of their joint estate, now totaling over $2 million, to the Rev. Malone and his two minor children.
The documents charge that Kevin B. Malone changed his will six times following his wife's death, erratically changing both beneficiaries and executors. For a time, Oxford University was to have been a beneficiary but was ultimately bested by the University of Nottingham, after a vigorous campaign by the institution.