Eastern US Tour by Buddhist Teacher and Author Dzogchen Ponlop Rinpoche
The Buddhist Channel, May 6, 2013
Tibetan Buddhist Teacher and Author Dzogchen Ponlop Rinpoche will give a series of interrelated public teachings in New York, Connecticut, and Philadelphia in May.
New York, USA -- This three-city tour of the Eastern United States is the first tour by Dzogchen Ponlop Rinpoche since the publication of his book, Rebel Buddha: A Guide to a Revolution of Mind (Shambhala), which introduced the Buddhist teachings in the context of an authentic emerging North American Buddhism, free of Asian cultural trappings.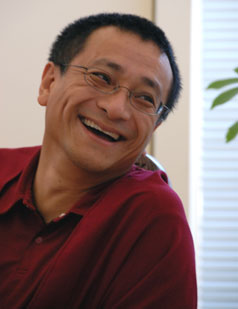 Many know Ponlop Rinpoche for his article on Huffington Post "Is Buddhism a Religion?"which in 2010 sparked a viral response in a matter of hours, inspiring commentary by a broad readership from many traditions.
The tour, sponsored by Nalandabodhi, kicks off on Saturday, May 11 in New York, NY at Tibet House US, founded by His Holiness the Dalai Lama in 1987 to preserve the culture of Tibet. On May 11-12 Rinpoche will give a series of three talks on "Independence and Interdependence,"and on May 12, "Buddhism as a Science of Mind: A Talk for the Asian Community."
Rinpoche's teaching tour continues with a weekend program in Connecticut May 17-19, "The Altruistic Heart: Training in the Four Immeasurables"(St. Thomas Seminary in Bloomfield, CT), and ends in Philadelphia on Saturday, May 25, with a talk on "Emotions as the Path, not the Problem" (Arch Street Friends Meeting House, Philadelphia, PA).
Dzogchen Ponlop Rinpoche is a leading Buddhist teacher in North America and an advocate of American and Western Buddhism. A lover of music, art and urban culture, Rinpoche is a poet, an avid photographer, an accomplished calligrapher and a visual artist, as well as a prolific author. Rinpoche is fluent in English and well versed in Western culture and technology. He is also the founder of Nitartha International, a non-profit educational corporation dedicated to preserving the contemplative literature of East Asia.
Nalandabodhi is an international network of meditation and study centers for students of Buddhism, under the guidance of Dzogchen Ponlop Rinpoche.
For more information please contact: Ceci Miller at outreach(at)nalandabodhi(dot)org 206.261.6900 or Diane Gregorio at diane(at)nalandabodhi(dot)org