New Hartford Buddhist Temple Celebrates 30 Years
by Esteban L. Hernandez, County Times, August 9, 2013
NEW HARTFORD, CT (USA) -- More than 100 people were on hand on Sunday afternoon to celebrate 30 years for the Dae Yen Sa International Buddhist Temple and Meditation Center and the ordination of two new monks.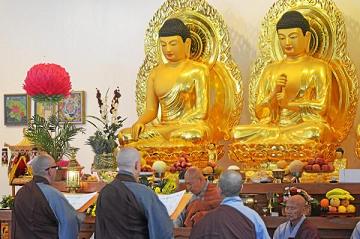 << Master Dae San Dasa leads a monastic ordination to welcome two new monks. This ordination took place at the Dae Yen Sa International Buddhist Temple in New Hartford as the temple celebrated its 30th anniversary. John Berry - Register Citizen
The temple, which was founded in Torrington in 1983, moved to its current location 20 years ago.
A Korean Buddhist temple, Dae Yen Sa welcomed Eduardo Barrios and Aaron Doyle as monks during an ordination ceremony that included prayer, food offerings, acceptance of the five Buddhist precepts and singing with the more than 100 guests inside the building located on Kinsey Road. A food reception followed the ceremony, to celebrate the 30th anniversary of the temple.
Doyle, who's Buddhist name is Bo Kyung Sunim, said being ordained as a monk is a new beginning. Doyle is from New Hartford.
"I'm excited to be beginning again," Doyle said. The ordination was the culmination of eight years of service to his temple, and he said he's still realizing the reasons why he decide to become a monk. He called it a process.
He said his goals were, "to deepen my practice and increase my motivation," and that he looks forward to practicing his religion with the community.
"The support is a wonderful feeling," Doyle said, speaking about the many people who saw and enjoyed his ordination at the temple. "There's a certain amount of nervousness in the air, but having that support really kind of made it even out."
Simply translated, "Sunim" is Korean for "teacher" and title is bestowed upon monks once they are ordained.
"It was just 10 years ago today or so that I was here and ordained. It was a wonderful day," said Ban Ya Sunim, a monk. "I look forward to seeing the new monks create more monks and spread Buddhism throughout Connecticut and the world. If there's ever been a need for it, there's a need now.
Ban Ya Sunim was one of several other monks who oversaw the ceremony, which lasted about three hours. The ordination ceremony was led by Master Dae San Dae Sa from South Korea.
"Don't be like Buddha, but be Buddha," Ban Ya Sunim said before receiving an applause from the audience.
Lorein Cipriano is a member of the temple and a volunteer, one of about 30 present during the celebration.
"Some of the (volunteers) are connected to a temple in upstate New York, so a lot of those members came," Cipriano said.
Her Buddhist name is Kong Duk Hang, which she said means "one who takes care of everyone." She helped sell t-shirts and welcome guests inside the temple. She is also a teacher at the temple. She teaches Qigong, a 13-part exercise that helps strengthen the body and mind, Cipriano said.
"A lot of these people, some of them are from Korea, came here for this anniversary and for the ordination," Cipriano said.
A monastic ordination welcomed new members of the temple to complete the day's celebrations inside the temple. A majority of the guests and members then walked outside to enjoy a vegetarian meal.