Inside Ithaca's new Tibetan Buddhist monastery
By Ellen M. Blalock, Syracuse.com, January 1, 2015
Ithaca, N.Y. (USA) -- The Tibetan Buddhists have finished two of four new buildings which comprise the Dü Khor Choe Ling Namgyal Monastery Institute of Buddhist Studies. Located on 28-acres of land less than a mile from Ithaca College off of Route 96B, the compound includes the main building with the shrine room, dining room and kitchen, as well as a separate building housing the monks' quarters.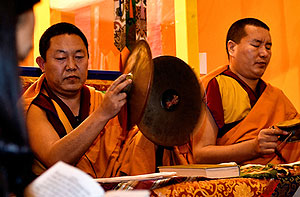 << Monks Geshe-Tsering Chophel (left) and Tenzin Choklang chant for one hour during the ceremony at the Namgyal Monastery.
The Namgyal Monastery is designed in the shape of a mandala and in respects to the traditional design of Tibetan monasteries. The design was approved by the Dalai Lama, the spiritual leader of Tibetan Buddhism.
Building this monastery allows the Buddhism community in Central New York a more authentic setting for Tibetan Buddhism study and to offer Tibetan monks an opportunity to learn English and teach.
The DKCL Namgyal Monastery celebrated the ceremony marking 600th anniversary of Commentary on Guhyasamaja Tantra, on the evening of December 16, 2014.
At 6 p.m. everyone started entering the shrine room, shoeless, first bowing at the doorway before finding a space on the floor. Monks Tenzin Choklang, Geshe-Tsering Chophel, Tenzin Chokrab and Lobsang Chogyal sat in two rows facing each other under the altar of Buddha with the photo of the Dalai Lama. The monks then chanted in the Tibetan language for one hour. At points in the chanting Choklang would clapped the cymbals and Chokrab would strike the drum.
Ngawang Dhondup, the administrator at the monastery, explains that the chants are prayers for the community, nature and world peace.
As the shrine room fills up with Tibetan chants, tea was served. First Dhondup served the tea to the monks and then to everyone in the room. Next, two monks performed a ritual of offering food to Buddha, the gods, the goddesses and the Dalia Lama. Chokrab and Chogyal, with help from several boys, past out all the food brought as offerings. There were fruits, candy, crackers and cookies.
After the hour long chant, monks and all gathered for the community meal in the dining room of the pasta vegetable soup the monks made just before the ceremony.
The DKCL Namgyal Monastery has several celebrations and ceremonies throughout the year. The monastery also offers several programs and courses of study throughout the year for thoughts interested in Buddhist and meditation.