Did you know the DKNL Buddhist Center is part of the Redding Land Trust?
Redding Pilot, July 19, 2015
Redding, Connecticut (USA) -- "Many people may not know that the DNKL Buddhist Center for Universal Peace on Putnam Park Road is one of the Redding Land Trust's largest and most precious conservation easements," says Redding Land Trust President Mary Anne Guitar, as she looks back over the achievements of the land trust on the 50th anniversary year of its founding.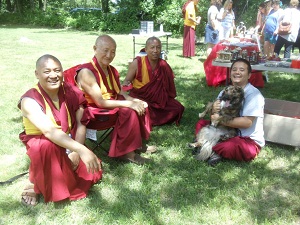 She recalls the days when Martha Lucas Pate, former president of Sweet Briar College who purchased the 95.5-acre estate she named "Godstow" in 1952, would host parties attended by Redding luminaries. Pate would elicit interesting stories and opinions from each.
When Pate died in 1983 she established an institute - the Maurice Pate Institute for Human Survival - in memory of her late husband, UNICEF founder and celebrated humanitarian Maurice Pate, who shared with her a devotion to world peace and compassion toward others.
The recipient of many honors, awards and government decorations, Maurice Pate brought humanitarian relief - food, medicine and other essential supplies - to millions suffering the effects of both World Wars I and II.
Martha chose as executor of her will Joan Dydo, the secretary to Maurice and before that to his good friend, President Herbert Hoover. Dydo asked her nephew Stephen Dydo and his wife Susan Altabet to join her in choosing a non-profit organization that shared the Pate Institute's goals to run the center. They chose the Mahayana Sutra and Tantra Center of Connecticut (MSTC).
In 1998, MSTC honored Martha Pate's wishes that the property be protected and preserved forever by a conservation easement held by the Redding Land Trust.
"Martha left generous legacies to many of those who attended her parties," Ms. Guitar said, noting that she is grateful for Pate's recognition of the importance of the land trust.
Today, the center is renamed the DNKL Buddhist Center for Universal Peace and is qualified as a monastery with Tibetan Buddhist monks in residence. The center provides classes on Buddhist thought and meditation and hosts festivals, dialogues and events for families and community organizations to promote more compassion in daily living.
In, 2012, DNKL co-sponsored with Western State Connecticut University a visit by the dalai lama to the center and to the college campus, where a very active Center for Compassion, Creativity and Innovation has been newly established.
Both the dalai lama and his Buddhist community have been in exile since the advent of Chinese Communist Tibetan rule in 1959.
Driving by the DKNL on any weekend today, one can see colorful Tibetan flags flying outside the former Pate home, now transformed into a proper monastery, with cars and buses parked outside and scores of people of all ages from as far as New York City enjoying the pastoral ambiance of the site and celebrating the wisdom and insights of Buddhist philosophy.
Susan Altabet and Stephen Dydo remain active board members and leaders at the center today.