Drawn to the wisdom of a Buddhist leader
By Sheela Raman, Originally published on Boston Globe Correspondent, August 17, 2005
EASTON, Mass. (USA) -- Hal Taylorson, a 37-year-old real estate businessman in Miami, doesn't have many Buddhist friends, nor does he practice the religion on a daily basis. Yet Taylorson was one of 920 people -- ranging from young children of doctors and businessmen to aging Vietnam veterans -- who traveled from all parts of the country to gather at Stonehill College for a five-day retreat with Vietnamese Buddhist leader Thich Nhat Hanh.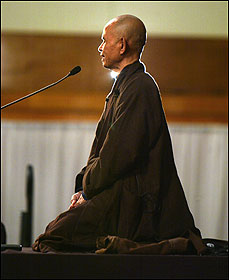 << Buddhist leader Thich Nhat Hanh at a retreat at Stonehill College. (Globe Staff Photo / John Tlumacki)
Taylorson, who said he is ''repelled by dogma," has attended Hanh's retreats over the past five years because of the leader's multidenominational approach and because the experience allows him to regroup from the stress of a chaotic urban environment.
People attending Hanh's retreat paid $700 each to stay in dormitories, eat vegetarian meals, and listen to Hanh's dharma talks -- lessons on how to live a fulfilling life. Tonight at 7, Hanh concludes his local stay with a talk at the Boston Opera House called ''Refreshing Our Hearts: Understanding True Love."
Hanh, 80, was nominated for the Nobel Peace Prize in 1967 by Martin Luther King Jr. and has followers in 44 countries. During the Vietnam War, Hanh and his followers aided displaced people on both the sides of the conflict. His neutrality made both North and South Vietnamese officials distrust him. The Vietnamese goverment exiled Hanh from his homeland in 1966; this year, he was finally invited back.
Hanh makes it to Stonehill every other year; his main residence is at a hermitage near Plum Village, a monastery and retreat center in the French countryside that he founded in 1982.
Eliana Manrique, a school principal in Kuujjuarapik, an Inuit town near the Arctic Circle, traveled to Stonehill for this retreat and has attended three others in the past. Manrique, who was born in Peru and has worked all over the world as an educator, left her job in Costa Rica three years ago for Kuujjuarapik. ''There is extreme suffering where I work, a high rate of suicide, people without jobs, fetal alcohol syndrome," she says. ''Thich Nhat Hanh's teachings are helpful for my lifestyle because they are directed at engaged action."
At 9:30 a.m. Friday in the Stonehill College gymnasium, Hanh gave a dharma talk that addressed the weighty topics of death and violence. He told people to remember ''the law of no birth and no death" when mourning deceased friends and relatives; the dead are alive within the living, he said.
Turning to world events, he said: ''In the situation in the Middle East, you see the Israelis suffer and the Palestinians suffer. If you have a deep look on the situation, you would see that the safety of one side depends on the safety of the other side," he said. ''In the war on terrorism, if you had the right view, you would be able to uproot violence and terrorism. We have to realize that we have no self -- that our self is made up of nonself elements." Hanh said politicians, whom we have entrusted with the task of securing peace, have not taken the time to attain this insight.
Stephen Smith, nephew of Senator Edward Kennedy, was among those who attended Hanh's talk. Smith, who has long been a follower of Hanh, attended a Washington, D.C., retreat Hanh held several years ago that drew 13 members of Congress. After the dharma talk, Smith and a few others had a private audience with Hahn, during which the leader talked about what it was like to return to Vietnam after 39 years of exile. ''It was wonderful to go back to my home, but most of the people I met this time were born in my absence. Many of my old friends had died in the war," Hanh said. He said he was happy to note that his countrymen had not forgotten him, because many of his books and tapes are in wide circulation.
Smith says he became interested in Hanh's teachings while working on Irish peace negotiations. ''I found his work applicable to that, " he said. ''I wouldn't consider myself not a Catholic -- I find his whole philosophy on life aligned with Catholicism."