Rutgers anticipating visit from Dalai Lama
BY JOHN DUNPHY, Sentinel Woodbridge Staff Writer, Sept 14, 2005
Woodbridge, NJ (USA) -- New Brunswick is considered by many to be the birthplace of Tibetan Buddhism in the United States.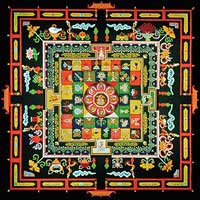 << A Mandala sand painting
It therefore seems only appropriate that the 14th Dalai Lama, Tenzin Gyatso, will be speaking before what could be a sold-out audience at Rutgers Stadium at 10:30 a.m. Sept. 25.
When several Tibetan monks left their homeland and settled in New Jersey during the 1950s, they ultimately made New Brunswick their home.
Hoping to offer nearby students at Rutgers an opportunity to know more about what was then a relatively unknown religion in the United States, the monks purchased a home in the area and began teaching those wanting to learn.
Chun-Fang Yu, the former chair of the religion department at Rutgers, has for several years reached out to the Dalai Lama in an effort to have him speak on campus, according to Nicole Pride, a public relations official with the university.
"This has been a work in progress for a few years," she said. "This event is a way to pay tribute to that monk and the state where Tibetan Buddhism flourished."
The Dalai Lama's lecture, which is titled "Peace, War and Reconciliation," is the keynote event in a semester focusing on issues related to conflict and moral obligation.
Since the university's announcement of the upcoming visit last November, it has been offering new courses and other events to familiarize students in anticipation of the appearance.
One unique event will take place at the Zimmerli Art Museum on Hamilton Street in the coming weeks — a Mandala sand painting, an art form that has been practiced within the Buddhist culture for centuries, will be created by the Drepung Loseling monks of Atlanta, Ga., Sept. 21-24. It will then be ceremoniously destroyed by dragging a rake over it and casting a small portion of the painting into the Raritan River at 3 p.m. Sept. 24, prior to the Dalai Lama's lecture the following day.
"The sand painting will be meticulously created for four days, sand grain by sand grain. It is dedicated to a deity of compassion," said Alfredo Franco, education curator at the museum. "Compassion will be one of the themes discussed, so it's appropriate."
The public is being encouraged to visit the museum and watch the monks create the painting during regular museum hours, which are 10 a.m. to 4:30 p.m. Those who attend the closing ceremony will be offered a small amount of the sand used in the Mandala to commemorate their participation in the ceremony.
Franco said sand paintings are often called "architecture of enlightenment."
"All that work will be erased," he said. "The philosophy behind it is that nothing is permanent, and even the most finely created objects will eventually disappear.
"It gives the possibility for a new beginning," he added.
Kurt Spellmeyer, a professor of English at Rutgers and teacher in Zen meditation, said those who first reached out to the Dalai Lama were looking for him to speak about issues that affect everyone, not just those involved in Buddhism.
"Many people who aren't Buddhists derive a great deal of inspiration from his moral leadership," he said. "They wanted him to speak on issues that reach beyond Buddhism and really beyond religion itself."
Pride said there has been an enormous amount of public response to the Dalai Lama's visit, not just from New Jersey, but the world.
"We have a gentleman flying all the way from Ireland to celebrate his 49th birthday at this event," she said. "It's been pretty overwhelming."
As of early this week, the lower deck of Rutgers Stadium, about 20,000 seats, had been sold out. The entire facility can house about 42,000 people.
Those who have not yet purchased tickets, which are $10 for the general public, are encouraged to visit http://www.president.rutgers.edu/dalailama for more information.
Those who have already purchased tickets are also encouraged to visit the Web site to find out where they'll be able to park their cars for this large event.
Though Spellmeyer is a part of the Zen tradition of Buddhism, he said Buddhists from all traditions hold Tibetan Buddhism's Dalai Lama in very high esteem.
"For Buddhists, he represents what we want to become," he said. "He has deeply realized in his own life the spirit of compassion and wisdom."