Lumbini to emerge as World Peace City
BY TILAK P. POKHAREL, Kantipur Online, Sept 19, 2005
New York, USA -- Twenty-seven years after the International Committee for Development of Lumbini (ICDL), was constituted at the behest of Nepal with the aim of developing Lumbini - the birthplace of Lord Buddha - the 16-member committee met here Friday, deciding to re-activate the almost-defunct body in order to develop Lumbini as a world peace city.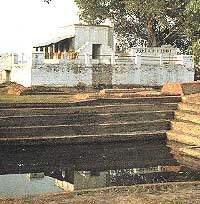 During the meeting, in which foreign ministers of member countries participated on the sidelines of the 60th Anniversary Summit of the United Nations, the committee unanimously adopted an "outcome document" that envisions making Lumbini a World Peace City in the long-term perspective, according to the Permanent Mission of Nepal to the UN.
"The committee had remained frozen for long time," Permanent Representative to the Mission, Madhu Raman Acharya, told the Post. "Now, something concrete may be done in this regard." The committee comprises, among others, Nepal, Japan, India, Pakistan, Sri Lanka, Bangladesh, Indonesia, Korea, Singapore and Thailand.
During the marathon meeting chaired by Foreign Minister Ramesh Nath Pandey that stretched until night, Acharya briefed members and representatives on the current status of the development of Lumbini.
Prof Nay Htun, former UN Assistant Secretary-General affiliated with UNDP, presented highlights of a UNDP study report "Vision and Scoping: Lumbini the Foundation of World Peace".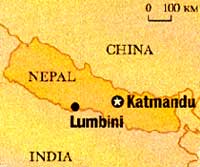 The document endorsed by the meeting also says that Lumbini will be developed as a foundation of peace and a regional hub of Buddhist sites and tourist destination of international attraction.
The high-level meeting also directed the Permanent Representatives of ICDL member countries to meet at least once a year in New York to take stock of the ongoing development in Lumbini.
Nepal will be holding the next meeting of ICDL in Lumbini. However, the date hasn't been fixed.
A master plan vis-à-vis Lumbini development and formation of ICDL had been adopted in 1978. However, the body had remained "frozen" after it first met in June 1987 at the Permanent Representatives level.
King pleased with efforts
In a message of greetings and best wishes to the meeting, King Gyanendra said, "At a time when the world remains deeply troubled by strife and violence, Lord Buddha's message of peace, compassion, love and tolerance assume greater significance."
"It's a matter of great satisfaction to note that efforts are underway on a national and international scale to develop Lumbini, to preserve its rich cultural and religious heritage and restore the pristine glory of Lumbini," the king said in his message, which was read out to the participants by Minister Pandey.