Buddhist relics energize visitors in Kent
By SHAWN COHEN, THE JOURNAL NEWS, Oct 16, 2005
KENT, New York (USA) -- It isn't just the faithful flocking to see sacred Buddhist relics this weekend at the Chuang Yen Monastery. There are also people like Deb Counts, a pagan from Oregon who felt energized by the display even though she didn't feel compelled to bow down and pray.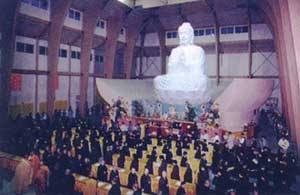 << The Great Buddha Hall inside Chuang Yen Monastery, Kent, NY.
"It's not my religion, but I don't need to be Buddhist to feel how important and deeply spiritual this is," she said yesterday after leaving the exhibit. "I didn't feel it was my place to participate in certain rituals, but I still feel its sacredness."
About 500 people from throughout New York and beyond came to see the relics, which are on display through today in Kent before continuing on a world tour. The Heart Shrine Relic Tour features a collection of statuettes that are said to contain pearl-like beads taken from the ashes of spiritual masters after their cremation. The relics, thought to be thousands of years old, are destined to be placed inside a 500-foot-tall statue of Maitreya Buddha, the future Buddha, in northern India in 2010.
"Some here think this is kind of a museum-type display, then realize these are not inanimate objects," said Carmen Straight, a Canadian who is a tour custodian and coordinator. "These are the essence of the Buddhist mind."
People had to take off their shoes and turn off their cell phones before entering the temple containing the collection, which came from Burma, Indonesia, Thailand, Tibet and Taiwan.
The faithful kneeled before a spiritual leader who blessed them by placing one of the golden statuettes on their heads. Then they walked around the main display in the center of the room, where just seeing the objects was perceived as a chance to erase negative karma and inspire kindness in others.
Some poured cups of saffron-colored water over the head of a miniature Buddha, then bowed in front of the relics as they proceeded around the tables.
"It was important for us to come here today, for us to be aware that there is somebody high above," said Pratistha Lucksom, 42, a Buddhist from Nyack who came with her husband and mother-in-law. "We're not thinking bad thoughts. We're not thinking about evil. We've come this far just to seek peace. That's what we need in this world, whether we're Buddhists, Muslims, Christians, whatever."
It was a strong showing, especially given the rainy week that threatened to keep people away. The skies cleared yesterday morning just as the exhibit opened at 10 a.m.
"Everybody here was praying it would be sunny," Straight said. "I know I was. And whenever you have a thought or wish or prayer around these relics, the light you have in your heart goes together with the essence of these gurus, and the prayer becomes exponential."
The tour, which began in 2001, stops in Flushing next weekend, then goes to Pennsylvania and Florida.